One of my favorite cinematic chase scenes is the climax of the ˜99 remake of The Thomas Crown Affair. You can check out the scene here. Nina Simone's Sinnerman layered over the quick-cut shots make for an incredibly fast-paced and tense foot chase through the MET. The claps that never seem to line up, the playful piano melody, Nina's powerful vocals and the frantic video editing all add up to a beautifully executed piece of cinematic art.
There's no doubt that the music plays an integral role in providing the needed tension, and directors have burned through hundreds of musical styles looking for the perfect chase music. While I don't think you can get much better than Pierce Brosnan's calculated mayhem in the MET accompanied by the lovely Nina Simone, we've compiled a playlist of the some of the most adrenaline pumping music out there.
This week at SoundTrax, we're throwing you a bit of a curve ball by juxtaposing two seemingly unrelated genres into one collection; the head-pounding, alternative rock of some great OurStage bands and the bumping electro-house from some of my favorite national producers. The styles of music lend themselves to something a bit more fast paced than a foot chase, so make sure to have your getaway car ready before you rob the bank.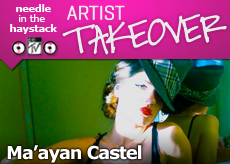 If you haven't already checked out this week's Needle In The Haystack artist shame on you. Ma'ayan Castel is a Hebrew beauty with the voice to match. You can check her out on MTV Music and download a free track of her hit "Now I Don't", but no one can tell you about her influences and aspirations better than Ma'ayan herself. Read on…
Quick! What….
…is playing on your iPod right now? The Black Keys, Tinariwen, Muse . . .
…do you and your bandmates disagree on? McDonald's.
…do you agree on? Coffee.
…did you dream about last night? My dog Luna.
…is your favorite meal on the road? Anything my mom cooked.
…is your favorite dance move? The Butterfly!
…instrument do you wish you could play? The Sitar, I took a few lessons in India, enough to totally cut my finger but not nearly enough to count. In India they practice most of their lives before they go out and perform¦. just like young bands today¦ Not!
My name, Ma'ayan, is Hebrew for wishing-well. Hard to pronounce, I know. My parents obviously had no idea they would end up moving my sisters and I to the States.  I'm a singer, songwriter, musician and somewhat of a synth-tweeking-geek.  I have been making music since I can remember. Probably around the same time I learned to read and write I also learned to press play/rec on my trusty little tape machine. The first song I heard that changed my life forever was "Creep" by Radiohead! I was on a ski trip with a few other families, all of us teenagers piled into a car probably looking to do something we weren't supposed to, and I remember looking out the window at the stars when the song came on and I felt my skin start tingling, then when that crunchy guitar hit, my heart just exploded and I knew.

I have been influenced by so many different artists and styles of music from The Police to Nina Simone,  Queen to World and Electronica.  The last couple of years Ihave been playing a ton of shows in New York and Boston and the experience has really shaped my writing. I always think about the live aspect because I find it so real and exciting, and my fans have been so amazing to me that I love putting on a great show for them.  It's really been interesting to be able to connect with young hip-hop kids, hipsters, mothers, daughters, artists, musicians, and the occasional creepy old man¦ haha! I've had the privilege of opening for some real cool acts too like VV Brown or having artists I respect like Wyclef Jean, calling my song "Now I Don't" a smash.

My dream scenario as a musician is doing shows like Coachella or Glastonbury with a sea of people going crazy, singing along, or scoring a Sophia Coppola film for example. I also wouldn't mind making a hot music video with "Don Draper" of Mad Men….  but I have to keep my feet on the ground because this is not the easiest climate for independent musicians. Being an independent artist means doing everything yourself, and I mean e-ve-ry-thing. It's a lot, but I have been lucky to have great fans and to find a musical soul-mate in my writing partner and producer Leo Mellace. We have very different musical backgrounds but that is exactly what makes the magic happen. Right now we are working on a new project that I'm really excited about and I actually have to stop here because I'm heading to the studio to record vocals.