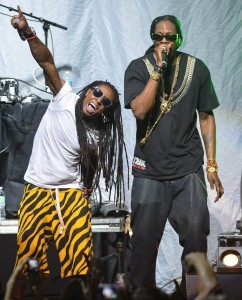 If you have been waiting with bated breath for Lil Wayne's Dedication 4 mixtape to drop, then breathe in deep. This might take a while. The rapper and YMCMB don took to Youtube to let fans know that his most recent mixtape would not be coming out on August 15th as scheduled.
Wayne shared the sad news from the plush leather seat of what appears to be a private jet, surrounded by his skateboard and Beats apparel, naturally. "I know I was supposed to drop that Dedication 4 tonight," Tunechi said.
In Drake's verse on the new 2 Chainz single  "No Lie," which quite apparently references his on-and-off relationship with Rihanna, he raps "She came through, she brought food, she got fucked, she knew wassup." Essentially the same could be said about Chris Brown after he and Drake were allegedly involved in a fist fight about the Barbadian singer at an after-hours club in New York City late last night.
According to TMZ and Media Takeout, both artists found themselves in the same club, igniting past tensions over their shared romantic interest in Rhianna. This is where the story gets hazy. When Drake allegedly rejected a bottle of champagne that Brown sent to his table as a peaceful gesture, Brown supposedly confronted him and his entourage furiously. What followed was a chaotic scuffle of broken bottles, punches, and one serious gash to the face for Brown.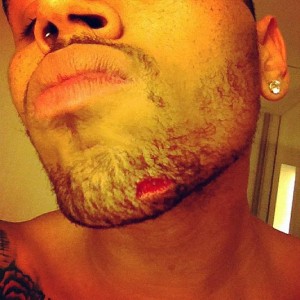 While club confrontations are nothing new in the world of pop stars behaving badly, Drake and Brown's bout of fisticuffs has provided some novel fodder for the Twittersphere. The beef between Drake and Brown has simmered for a while, and this is the first time it's exploded into a physical altercation. It's hard to predict how the rivalry will continue from here, but fans of both artists can at least hope for some great diss tracks to result from the incident. Sure, losing a chunk of his chin doesn't exactly make Brown 50 Cent, but that doesn't mean he can't milk it for all it's musically worth.