Time flies, they say, when you're having fun (probably more so when you're having fun in fun.!), and 2012 appears to be whizzing by at a faster clip than usual. Not everyone is having such a blast, though. Yes, these are the best of times"still!"for Adele, but how could they not be? She continues to hover around the top of the charts with 21 more than a year after its release.
What about her brothers and sisters in pop? Here's a scorecard for the first half of 2012.
Winner!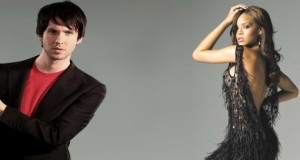 Rihanna with a beat A word of advice to Rihanna: Don't stop the dance. After she spent 10 weeks at No. 1 with "We Found Love""her collaboration with Scottish DJ Calvin Harris and the first single from Talk That Talk, her sixth album" neither Jay-Z (on the album's title track), nor Chris Brown (on the single remix of "Birthday Cake"), nor Coldplay (on whose Mylo Xyloto track "Princess of China" Rihanna appears) could boost Rihanna back into the Top 10.
It took a return to strobe-light pop, with Harris as co-producer (along with Dr. Luke and Cirkut), to give Rihanna her first new Top 10 hit of 2012, with Where Have You Been.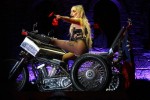 Loser!
Lady Gaga in Southeast Asia The year began pretty quietly for Gaga until she kicked off her The Born This Way Ball tour in Southeast Asia in April. Then everything that could possibly go wrong did. Christian groups in South Korea, where she played Seoul on April 27, slammed her less-than-holy stage antics, resulting in government-imposed over-eighteen age restrictions for the opening-night show. Meanwhile, the protestations of the Muslims in Indonesia led to the cancellation of her June 3 show in Jakarta.
In Thailand, things went from bad to scandalous. First, she incited the ire of locals by touting Bangkok's supply of "fake Rolex" moments after arriving for her May 25 concert there. Then they ripped her apart some more for wearing a traditional Thai headdress with a bikini and for sitting on a motorbike with a Thai flag tied to it during the show. At least she didn't simulate sex with a statue of Buddha.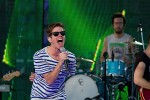 Winner!
White boys with an edge Nothing but the beat isn't just the title of David Guetta's latest album. It's become pretty much a mantra for most of the women in pop (see Rihanna) and many of the artists formerly known as R&B and hip-hop stars (Usher, Chris Brown, Nicki Minaj).
But in reality, it isn't all about the beat. The two biggest No. 1 singles of the first six months of 2012"fun.'s "We Are Young" and Gotye's "Somebody That I Used to Know""are both quirky pop songs that have little to do with the prevailing sound of the times (dance music). Where either act goes from here is anybody's guess, but it's nice to know that in 2012, you can still score a big hit even if you can't dance to it.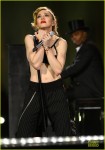 Loser!
Madonna's latest album Okay, so the Queen of Pop is in no danger of being evicted from her throne and sent to the poor house anytime soon. She can still demand top dollar (as in hundreds of them) for mediocre seats and sell out her current MDNA world tour anyway. And her 12th album, MDNA, did debut at No. 1 with 359,000 copies sold in the week after its March 26 release.
Alas, it spent only a pair of weeks in the Top 10 (dropping a record 86.7 percent in week two), and by the time the MDNA tour kicked off in Tel Aviv on May 31, it was out of the Top 100 completely. Meanwhile, Give Me All Your Luvin', the first single, hit No. 10 on Billboard's Hot 100, but it was on and off the charts within two months, and thus far, there's not a follow-up hit within earshot.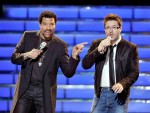 Winner!
Lionel Richie Sometimes it's not where you start but where you end up a few weeks later. Although Richie's latest album, Tuskegee, entered Billboard's Top 200 album chart in the runner-up position to Madonna's MDNA, it didn't stay there for long. It eventually crawled up to No. 1, and by May, it was the second best-selling album of 2012 (with 789,000 copies sold), right behind Adele's 21.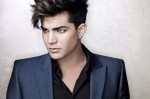 Loser!
Adam Lambert His sophomore album, Trespassing, did debut at No. 1, making him the seventh American Idol contestant to get to No. 1. Unfortunately, Lambert did so with only 77,000 copies sold"the lowest sum for a No. 1 debut since February of 2011, when Amos Lee's Mission Bell began on top with first-week sales of 40,000. And it was only downhill from there. After four weeks on the Top 200 album chart, Trespassing was way down at No. 54.
Where were those Glamberts when Adam needed them? Did they defect to Team Beliebers?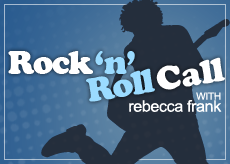 Pop artists like Lady Gaga, Bruno Mars, Ke$ha and Rihanna dominated the charts in 2010. For us rock fans, though, this year was equally huge. There were countless bands reuniting, going out on anniversary tours, playing massive festivals and releasing new material.
In no particular order, here are some of the best rock albums released this year!
My Chemical Romance – Danger Days: The True Lives of the Fabulous Killjoys
Those of us who are diehard My Chemical Romance fans were awaiting the band's fifth studio album with nervous excitement and eager anticipation. We hoped it would live up to the all the hype, but we were also completely unsure of what style the band would try on this time around, as each release has been vastly different from the last. Luckily, MCR delivered a beautifully bright, energetic and well-produced record that shows a freshly polished sound that includes everything from punk to disco. Check out our full review of the record here!
Recommended track: "DESTROYA"
Pierce the Veil – Selfish Machines
San Diego post-hardcore group Pierce the Veil released their sophomore LP, Selfish Machines, back in June. In the first moments of opening track "Besitos," this album grabs your attention with hand claps, guitar picking, layers of harmonizing vocals and a Latin-influenced beat. PTV ramped up everything on this release, from Vic Fuentes' unmistakable tenor shrieking to heavy breakdowns and impressive guitar solos. But these rockers can pull off the ballads as well, with the slow number "Stay Away from My Friends" being one of the strongest tracks on the record.
Recommended track: "Caraphernelia" (feat. Jeremy McKinnon of A Day to Remember)
Automatic Loveletter – Truth or Dare
Charismatic singer-songwriter Juliet Simms of Automatic Loveletter has not been an overnight success story. As she recounts on the track "Story of My Life," she moved from Florida to LA at fifteen after being offered a record deal from Epic. As the label struggled, Juliet wasn't dropped, but wasn't supported either. Armed with her DIY attitude, Simms sold handmade copies of her record and feather hair clips to help support her band out on tour. All the hard work paid off, and Simms became one of the most sought-after guest vocalists, having provided her instantly recognizable raspy pipes to albums from All Time Low, Secondhand Serenade, Cartel and more . On the band's major label debut, Juliet's simple acoustic songwriting is taken to new heights, with stadium-ready choruses and charging electric guitars mixed with soft, piano-based ballads.
Recommended track: "Let it Ride"
Envy On the Coast – Lowcountry
Long Island, NY natives Envy on the Coast released the impressive Lowcountry
in March. With creative lyrics, daring and experimental musical choices and stellar vocals from frontman Ryan Hunter, this record stands out among its peers as having some of the most original songwriting of the year. Equal parts Incubus, Circa Survive and The Dear Hunter, Envy on the Coast unfortunately called it quits this year as well. Be on the lookout for Hunter's and guitarist Brian Byrne's  new project, North Korea, which also features Dilinger Escape Plan drummer Billy Ryan.
Recommended track: "The Great American T-Shirt Racket"
Chiodos – Illuminaudio
When post-hardcore outfit Chiodos kicked out founding member and frontman
Craig Owens, many fans were outraged. With his dynamic voice and inspiring stage presence, Owens was not only the band's most charismatic and well-known member, but also a staple in the modern rock scene. Thousands were sure that this decision was the nail in Chiodos' coffin, but the release of Illuminaudio showed that this band could carry on, and release one hell of a record. New vocalist Brandon Bolmer not only matches Owens' range, but he also shows a flair for the dramatic on his lyrics, which was one of Owens' strongest facets. The band members stepped up their game as well, adding more technical parts to each instrument and keeping the orchestral touches that made 2007's Bone Palace Ballet a masterpiece in its own right. The breakdowns are heavy, the instrumentation is tight, the vocals are spot-on, so it's clear Chiodos aren't going anywhere.
Recommended track: "Those Who Slay Together, Stay Together"
VersaEmerge – Fixed at Zero
Due to the success of Paramore, there are now hundreds of identical young female-fronted pop bands trying to find their place in the spotlight. But make no mistake, that doesn't include Tampa, Florida natives VersaEmerge. Fronted by the electrifying 20-year-old Sierra Kusterbeck, Versa take pop rock to a new level, adding in complex electronic arrangements (courtesy of guitarist Blake Harnage), tightly layered harmonies and wonderfully honest lyrics about Kusterbeck's own inner conflicts. The band's first LP, Fixed at Zero, was released this summer and has catapulted the band to buzzworthy status, aided by a full-episode on MTV's The World of Jenks and placement on the entire 2010 Vans Warped Tour.
Recommended track: "Fixed at Zero"
The Deftones – Diamond Eyes
When The Deftones' bassist Chi Cheng was involved in a horrible car accident that left him in a coma, the band shelved their near-completed album, Eros. A year later, they decided to return to the studio (with Sergio Vega of Quicksand filling in for Chi) and wrote what would become Diamond Eyes. The record is mercilessly heavy, verging on metal at times, but also has some slower numbers that add depth and atmosphere to the record. Vocalist Chino Moreno keeps up with the band's flawlessly-executed prog rock with his high-intensity screams, which can quickly morph into soft and soulful melodies. If you're looking for a record to rock out to, Diamond Eyes is definitely a front runner this year.
Recommended track: "Rocket Skates"
Ludo – Prepare the Preparations
Few lyricists today have the incredible imagination of Ludo's Andrew Volpe. Anyone who needs proof need look no further than 2006's jaw-dropping five-song rock opera, Broken Bride, which is about a man who mistakenly time travels between the Pre Historic Era and a future apocalypse to save his dead wife. Though Broken Bride is brilliant and beautifully written, it's going to be tough for Ludo to ever top it. That being said, Prepare the Preparations is an eccentric and quirky pop record, with lyrics that cover everything from robots to dancing skeletons to leprechauns. The songwriting is creative and more experimental than in the past, as Ludo covers everything from acoustic to electronic pop to straight up showtunes.
Recommended track: "Too Tired to Wink"
Foxy Shazam – Foxy Shazam
As we learned in our Q&A with Eric Nally of Foxy Shazam, it's very difficult to categorize this outrageous and energetic rock group….and that's the way they like it. Pieces of punk, soul, funk and indie rock make their way into the band's self-titled record, which dropped in April. This isn't a record that you'll listen to and have to wonder if the group is just as fun live, as Foxy are well known for their off-the-wall theatrical performances. They may be an acquired taste, but either way, you have to give Foxy Shazam props for being genuinely original.
Recommended track: "Count Me Out"
Isles & Glaciers-  The Hearts of Lonely People
Since Pierce the Veil and Chiodos were both on our list, it makes sense that a supergroup including PTV's vocalist Vic Fuentes and his brother, drummer Mike Fuentes, as well as Chiodos bassist Matt Goddard would also be included. Isles & Glaciers also includes (ex-Chiodos, now D.R.U.G.S.) vocalist Craig Owens, Emarosa/Dance Gavin Dance vocalist and solo artist Jonny Craig, Underminded/D.R.U.G.S. guitarist Nick Martin and ex-Boys Night Out/The Receiving End of Sirens' Brian Southall on keyboard and guitar. After many months of pushing back the release, their debut EP The Hearts of Lonely People was released in 2010. Different than any of the members' past or present bands, Hearts is a mash-up of post-hardcore, electronica and pop rock. The three vocalists here, especially Jonny Craig, really steal the show.
Recommended track: "Hills Like White Elephants"
Leave us a comment below and let us know what your favorite rock album of 2010 were…then check back next week for our list of most anticipated rock albums for 2011!