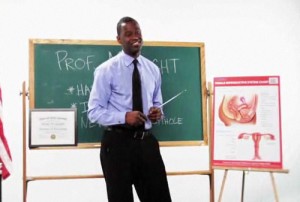 R&B singer Brian McKnight, probably best known for his 1999 hit "Back At One," has made some unorthodox if intriguing career choices lately. Case in point: McKnight's most recent single, "You – Anthem," is a send up of porn video site YouPorn, replete with fittingly explicit lyrics and lurid verses.
McKnight first made waves with his newfound penchant for envelope-pushing lyrics when he released "iFUrReady2Learn (C.A.T.S.)." The NSFW song is ostensibly about sex education and was written as a joke while McKnight was stuck at home recovering from an ankle injury. McKnight wisely capitalized on the publicity by releasing an equally NSFW video of the track through humor site Funny Or Die. However, the inspiration for "You – Anthem" came from a different place. After the release of "iFUrReady2Learn," McKnight noted that a spike in sales occurred after adult video site YouPorn promoted the track through their site. And when YouPorn asked McKnight to write a song about them in thanks, he was only too happy to oblige. Since the release, McKnight has taken to his Twitter to address fan concerns with the track. This most recent release appears to mark a change in style for McKnight, whose new material is decidedly less K-Ci & JoJo, more 2 Live Crew.
Listen to the NSFW "You – Anthem" here.