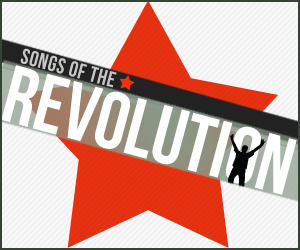 Hey, this is Scott, producer of the Songs Of The Revolution series for OurStage.
Just about one year ago, we sputtered forward with an idea we had. We wanted to bring to you, the loyal OurStager, a taste of the vibrant live music circuit we're lucky to be a part of here in New England. We wanted to capture unique live performances from the talented and generous artists we are so lucky to work with, in an atmosphere more intimate than you might find even in a small rock club. By the end of 2011, we had captured some fantastic performances. And since we relaunched in 2012, we've gotten into a groove with a lot of really stellar musical moments.
And it keeps getting better. Every two weeks, we publish a new session, with free, exclusive audio downloads and streaming video (some of those early sessions were filmed on nothing but a flip cam or, in desperate times, an iPhone, and now we've grown to multi-camera shoots with all the bells and whistles).
But it's always, always about the music around here. So I've compiled a few audio selections from the past year in this newfangled "Podcast" format that all the kids are raving about. Personally, I think they're on drugs. You can tell by their eyes.
I digress.
At your leisure, please take a listen to these songs, accompanied by some powerful, compelling, Morgan Freeman-esque narration by yours truly.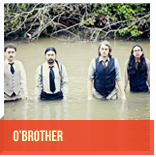 It's that time again. New music revolution time. Every couple of weeks, we offer a new Songs of the Revolution session with some of our favorite artists, featuring exclusive, stripped-down performances and some free downloads. This week: O'Brother.
Atlanta's O'Brother has released only one full-length album so far " 2011's Garden Window " but they are already road-tested pros with a loyal and rapidly growing fanbase. Having completed tours with the likes of Manchester Orchestra and The Features, the band was crossing the country on their first major co-headlining jaunt (with Junius) when we caught up with them in Boston. While the rest of the band decompressed in the parking lot after a long drive, singer Tanner Merritt borrowed someone's old guitar and banged out three affecting performances in the studio. Merritt's extra-laid-back and unassuming demeanor belied the tense atmospheric shift that occurred in the room as soon as he starting singing. Check out the streaming videos and download the tracks… for free!
More like this: