After years of bullying, beefing and flaunting cash, 50 Cent is turning over a new leaf with a new album, new boo, and a new mission to save the world.
The Queens-bred rapper reportedly scrapped an earlier version of the album, titled Black Magic, last year. Now, he's ready to release his fifth studio album, despite the lack of a single, or title. "[Business ventures are] how to sustain a longer career. Because hip-hop culture has a little attention span. So, forget what you've done in the past. It's, what have you done for me lately? I got an album that's coming out," he said. "It's on schedule now for the fourth quarter. So I'm ready to get it together. Early December," he told Global Grind last week.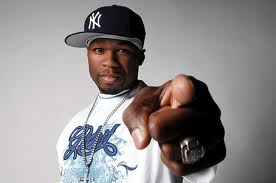 The announcement of a new album was nothing compared to the declaration he made last week in a PSA on his Web site.  The G-Unit leader addressed issues of poverty, greed and corporate corruption, saying he will stop at nothing to affect change in the world.
"People don't seem to care anymore. People seem to have distanced themselves from other peoples' problems. They have been programmed not to care," he said. "There are 1 billion plus people living in extreme poverty," he notes. " You don't know if your getting your next meal, no shelter, no medical. You have no chance of hustling your way out of it."
The tradition of protest music has a long, rich tradition in America. From nascent beginnings in the early twentieth century and the labor movement to the great civil rights protest songs of the '60s to the '70s anti-Vietnam singer-songwriters to today, it's an integral part of the story of rock 'n' roll. Whenever some perceived injustice becomes large enough, you know there's going to be performers involved to lead the rallying cry.
"Don't you know they're talkin' bout a revolution/ It sounds like a whisper." Well, not quite a whisper, Tracy Chapman. Sure, Chapman wasn't writing this about the #OccupyWallStreet movement or the subsequent protests when "Talkin Bout A Revolution" was released back in '88. But that song and her words ring more true now then they have in a long time.
Now this isn't going to be some partisan treatise on the pros and cons of the movement"we'll save that for the wonky policy blogs. However, as the Occupy protests continue on into their fifth week, they have begun to draw in disparate segments from all across the pop culture spectrum. We've had conservative bloggers investigating/instigating in the fray, Gossip Girl alums hoisting cardboard signs and familiar Hollywood faces of varying loveliness. Oh, and Giraldo Rivera. More importantly, we've had a couple of good, old fashioned protest-music moments. And no, we don't mean that guy with the acoustic doing Pete Seeger covers, though that guy is pretty cool.
It's unknown what inspired Jeff Mangum of dormant folk group Neutral Milk Hotel to perform for the protesters on Wall Street. The notoriously retiring frontman has been making public appearances with increasing frequency in the past couple of months, playing sold out shows in east coast locales with tickets selling at near unaffordable prices. So, while you might not have been able to catch the reclusive Mangum in a solo set at some tiny club, if you were in downtown Manhattan on October 4th and happened to be a fan of collegiate indie rock, then you were in for a real treat. The best part? The tech savvy protests streamed the entire impromptu event as it happened on livestream, turning a cool moment into a viral thing.
"Of course I support [Occupy Wall Street]," Mangum said after his performance. "This is just something small that I can do." Aw, what a guy!