The big music moments of this year's Super Bowl weren't just limited to Madonna's Roman Empire-inspired theatrics or M.I.A.'s middle finger gesture during the halftime show.  OK Go debuted their new music video for "Needing/Getting" right before the game. As we've come to expect from the band, the video was a wonderful little piece of musical engineering ingenuity.
The clip is probably the most technically impressive video effort from the band so far. MTV reported that the video used over 1,100 instruments"many found and reappropriated from junkyards"and that the cost for the production, over six figures, was the most expensive for one of their videos to date. But OK Go must be laughing all the way to the bank. After all, that's not just any car that they're driving. That's the new Chevy Sonic that they're rolling in, pounding on trash cans and whipping at electric guitars.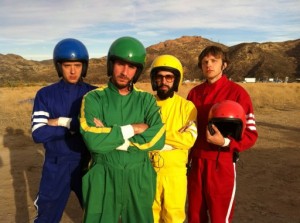 So this is it, then. OK Go has moved from being a band in the conventional sense to being a literal vehicle for marketing. And the transition happened so naturally that nobody even noticed. It doesn't hurt that the days of bands being decried for selling out, for "going corporate", are long gone.
OK Go had their popular beginnings like many bands that came up in the alternative rock sweepstakes of the early aughts. They had a minor hit when their single "Get Over It" earn them some radio play and some features on MTV and VH1. Then their backyard choreographed, no budget video for "A Million Ways" debuted on YouTube and became a viral smash. Instead of writing off "A Million Ways" as a happy accident, the band brought out the treadmills for "Here It Goes Again" and the rest is history.
No matter what you think about OK Go, they do their videos well. Also, according to lead singer and mastermind behind much of the band's visual works, Damian Kulash, they're not conceived of with a cynical, money-oriented agenda. After all, Chevy wasn't the one that approached the band with the concept for the video. It was the other way around.
""It was an idea I had about a year ago. Our co-director, Brian L. Perkins"he's a old friend of mine, he was in my college band, and he's directed some of our other videos"works for an agency that works with Chevy. I told him if you ever have a car company crazy enough to try something this awesome, then I have this idea," Kulash said in a feature on MTV Buzzworthy. And surprise surprise, Chevy liked the idea too.
To his credit, Kulash stays hands on with all of his projects. The filming of the video seems like it was shooting the video was a big headache and Kulash was there for every step of it. Damian himself spent days before filming began tuning instruments in the desert. Car and Driver Magazine has an excellent feature on the "making of" process, sharing schematics for the tricked-out car to documenting the various technical issues that the crew encountered in the Mojave. But the band, and Damian, remained upbeat through the whole process. Then again, they were getting paid to do stunt driving in the desert in a musical rally-sport course. If you want to spend your day making stuff, somebody is going to have to help you pay for it, says Kulash. If only all of our day jobs were as cool.