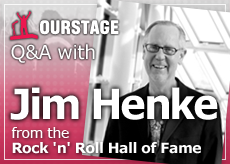 Located in downtown Cleveland, Ohio, the Rock and Roll Hall of Fame and Museum, Inc. is home to an invaluable collection of information and artifacts from the world's greatest rock artists. The nonprofit organization also exists as an educational institution to help teach music enthusiats of all ages.
In January of 2012, the Hall of Fame will be opening a brand new Library and Archives, which will be the world's most comprehensive collection of documents, music and videos relating to rock music. We had the opportunity to speak with Jim Henke, Vice President of Exhibitions and Curatorial Affairs, to hear all about this incredible new building, as well as the amazing artifacts and educational opportunities at the Hall of Fame.
OS: What do you take into consideration when nominating artists for induction into the Hall of Fame?

JH: The only real rule is that they become eligible 25 years after the release of their first recording. From there, we try to take into account things like the longevity of their career, the impact they had on other artists, innovation, superiority in their style and technique and musical excellence. It's not based on record sales, it's basically based on how important of an artist they were and the quality of their body of work.
OS: How typically does the museum procure for its rare memorabilia collection? From private collections? Estates?

JH: Most of the stuff we have comes directly from the artists and their families or their managers. It varies, but I'd say that 25% of what we have on exhibit here comes from the artists, their families or people who are associated with them. For example, right now, we have an exhibit on Bruce Springsteen. Most of the items came from Bruce directly, but there were a couple collectors out there who had fairly decent collections, so we also borrowed some pieces from them to fill in some of the holes.
OS: What should we expect to see in the new archive/library?
JH: It's going to operate on two levels. One level will be more of a normal library that the general public can go into, where we'll have books, magazines, periodicals. People will also be able to access music over the computers, and we'll also have a lot of videos. The museum itself has been open for fifteen years and we've done a lot of events here, and virtually all of them have been filmed. We do a program every year called American Music Masters, where we honor one of our inductees with a week-long series of events and various performances. We've done maybe ten of those and we filmed all of them, but that footage has never been available. We also have a program called The Hall of Fame Serieswhere we bring in the inductees and we'll interview them and often they'll perform. The archive part of it will be more for students, scholars, historians and journalists. You'll make an appointment to come in and we'll have certain collections from various people and it's their private papers…it could be contracts, correspondence, set lists, manuscripts. So, if someone's writing a book or if someone's doing a thesis, they'll have a private room with an archivist and they'll be able to go through these people's papers.
OS: Why, now, is the library starting this archive?
JH: We talked about having a library and archive ever since before we opened and originally it was going to be here at the museum, but we never had quite the proper space. But it's always been something that's been on our radar, and we've always wanted something where we could preserve the history of rock and roll and allow historians and scholars access to stuff. We looked at other places in the Cleveland area…and there's a college here called Cuyahoga Community College. Their president has been on our board since day one and has been very active. They also have a program called Recording Arts and Technology and a music production program. It turns out they were building a new building for that program, so their president thought they could build a larger building and we could put our library in there. The building's complete and we have staff in there now and they're cataloging everything. It won't be open to the public until sometime next year, but we're getting everything up and running.
OS: The Hall has a lot of different educational programs, particularly in classroom settings. How are the topics for classes determined?
JH: We have a program called "Toddler Rock" that's open to preschool kids. They come in and we use music to teach them, the alphabet and counting. Then we have a program called "Rockin' the Schools," which is [offered to students in] kindergarten through twelfth grade. Those classes are taught here at the museum in our theater upstairs. Basically, we take rock and roll and try to use it to each about other things. For our first grade to fourth grade kids, we have a class called "Tell Me Something Good: Music and the Language Arts." They listen to music and hear some of the stories and they examine how lyrics can establish setting, introduce characters, develop plot and narrative. We have another class called "Rock and Roll and the Science of Sound" and that's for grades five through eight…it looks more at the audio aspect of rock and roll and how sound travels into our ears. We have another class called "The Message: The Birth of Hip Hop Culture," which talks about hip hop and what was going on in our culture when hip hop was developing back in the '70s. We try to go beyond music and talk about sociology or mathematics or science. We also have a distance learning program called "On the Road," where we use interactive video conferencing technology to go into schools all across the country. We also do college-level classes.
OS: How will the Archive factor into the educational initiatives?
JM: With the kinds of things we'll have there and having these very personal papers from a lot of people, one of the things we talked about was doing academic conferences and maybe tying it back to an exhibit. It will definitely help us to expand our educational offerings.
OS: What are some of the more interesting,  rare and noteworthy acquisitions you've procured?

JH: We have a great collection from Jim Morrison's parents. It turns out that they kept every piece of paper related to his life, from the hospital bill from when his mother gave birth to him to virtually all of his school report cards. In an interview for Rolling Stone back in the 6'0s, they asked him what the first poem he ever wrote was, and he said it was called "The Pony Express"…they [his parents] actually had his hand written manuscript of that. So that's one of our great collections because it really is very thorough. It goes through his college years and formation of  The Doors, Jim had a falling out with his father and when he was arrested for allegedly exposing himself on stage down in Florida, the probation officer down there wrote his father a letter, asking what Jim's shape was. Jim's father wrote back this really sad letter about how he hadn't talked to his son in many years. So there's this gap through part of The Doors' years and there's letters between his father and different legal officials, and then there's the official announcement from the American embassy in France that he had died. That's a really nice collection. Yoko Ono has been very good to the museum, we have a great representation of John Lennon. We have a Sgt. Pepper uniform, a lot of his handwritten lyrics, report cards, different correspondence, a couple of his guitars. Similarly, we have a very good relationship with Jimi Hendrix's estate. As a young man, he was interested in becoming an artist, so we have all these different paintings that he did when he was younger. It's interesting because there are a couple of rock band pictures, but there are also a lot of sports drawings that he did. You don't really think of Jimi Hendrix as being a football fan but he did these different drawings of football players. We have a great collection from U2 that goes back to record company rejection letters, when they were first sending around their demo tapes…those are funny. We have some correspondence between the different band members and some lyrics manuscripts, some guitars and stage outfits. There's pretty much something for everyone, no matter what your tastes are. We have sections that deal with the roots of rock and roll, the blues and rhythm and blues and gospel and country and folk. We have another section that looks at different cities and the history of rock and roll. It starts with Memphis in the '50s and then includes Detroit during the Motown years and San Francisco during the psychedelic era and Los Angeles during the singer/songwriter country rock era and it ends in Seattle during grunge. There's a lot of stuff here!
OS: The new library is already garnering some notable media coverage. What do you hope it will do for the Rock  & Roll Hall of Fame's already renowned collection?
JH: I think it expands what we're looking for and the fact that we're actively out collecting for the library and archives. We're going to musicians and producers and people in the music business, trying to get their papers. I think it will deepen our collection and broaden the extent of what it is. We'll have many more documents to show how a lot of the music developed.
Check out the video below to watch Dave Grohl and Taylor Hawkins induct Queen into the Rock and Roll Hall of Fame in 2001!