A few months ago, we featured a post celebrating twenty great years of music by Opeth (which you can read here ). Obviously, we have lots of respect for Mikael í…kerfeldt and company. They're progressive death metal juggernauts who never seem to disappoint fans and critics. Despite numerous great albums, amazing tours and boatloads of positive critical reception, they're still hard at work, releasing their tenth album Heritage earlier this year. Not too long after our article was published, we were able to put together an interview with the frontman of this iconic band, and it was well worth the wait.
OS: Opeth has been in the metal world for quite some time now, and you're considered by many to be one of the best metal bands of all time. What helps you put out such great material so consistently?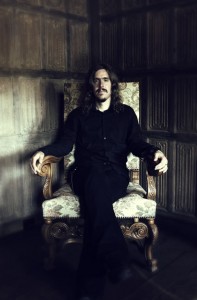 Mí…: Well, we don't really regard ourselves in any way as one of the best bands or whatever, we just try to write and record music that we want to hear, and I guess the big difference is that we have a wider range of influences than your regular metal band. I mean, we've been around a while of course, but really we've just been putting out records we want to listen to, first and foremost, and I guess we've just been fortunate that other people like that shit as well.
OS: Speaking of that, the critical reception of Heritage has been pretty great, and it sold pretty well, even though it's quite different than your other material. How do you feel about the album's reception so far?
Mí…: I'm pretty happy with it I think, but I don't really go looking for it. I'm not really seeking approval from anyone. You know, even if I like getting good reviews and people telling me they like the new record, it doesn't really matter so much for me anymore, I can't really say why. I love it, you know, and that's all that matters.¦If you go on the Internet looking for some type of approval you're gonna end up with a lot of shit too, and I don't really need that in my life right now, to be honest. (more…)
We recently caught wind of vocalist Joey Belladonna talking about his concerns over being a permanent fixture in Anthrax during his third tour of duty with the band. As unfortunate (and probably well-founded) as Belladonna's concerns are, we won't be focusing on his particular case today. His statement got us thinking on how commonplace lineup changes really are; we're interested in how bands, especially those considered seminal in their genres, are able to maintain their sound and fanbase throughout the years with completely different members. After some research and many generalizations, we have made this list of what can happen to a band when new members are recruited.
Stroke of Luck Bands: AC/DC, Nirvana, Pantera
AC/DC was a band that had an established position within their scene, but would Back In Black have been so immensely successful if Bon Scott had still been on vocal duties? Would Nevermind be the grunge postersong if it weren't for Dave Grohl's performance on the skins? Would the Cowboys From Hell have exploded onto the metal scene without Phil Anselmo's growling screams and falsetto? Probably not.