For at least another year or two, all of the U.K.'s up-and-coming sisters (and brothers) with voices will have their work cut out for them. As if it's not already tough enough to rise above the pop pack, they'll also have to contend with all of those inevitable Adele comparisons.
Is she (or he) the next Adele, the future of U.K.-bred pop talent hoping to achieve global domination?
Admit it: You wonder, too"every time a great new voice emerges from the British music scene. With the ruling pop diva of the last two years now between albums (perhaps she'll be back in the autumn singing the theme for the next James Bond film, Skyfall) and expecting her first child with boyfriend Simon Konecki, the battle is on for the keys to the kingdom that the princess hasn't even yet vacated.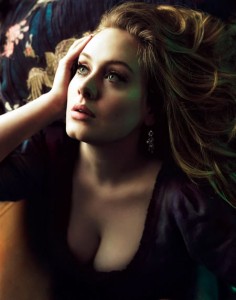 If you've got a great voice and/or a slightly unconventional pop sound and/or look, if you're more substance than style, to the front of the line you go. It's the latest greatest aspiration in pop since the days when it was all about being the next Amy Winehouse, whether you sounded anything like her or not. Challenging Adele might be as scary a proposition as walking in the late Winehouse's scuffed shoes might have been (terrifying for reasons that had everything and nothing to do with Winehouse's talent), but at least fans are in for some great music. Recently, I heard a Rumer (the off-the-beaten-pop-path singer behind 2010's Seasons of My Soul and this year's Boys Don't Cry), and my first thought was "Is this it?"
Rumer isn't the only talented singer who's making me listen and wonder. Here are three others:
Emeli Sandé (Current hits: My Kind of Love and Next to Me) In June, a friend sent me the video for Sandé's recent single, Next to Me, on Facebook, with a short and sweet message: love… After watching the clip, my first impression was Sara Bareilles with a really dated look. White on black is so mid-˜90s! My second impression: How is it that everybody all over the world doesn't already know her name (which, incidentally, is actually Adele Emeli Sandé)?  (more…)

Lately, it seems that we are hearing more and more from new and unexpected partnerships between artists of different genres. This is why, through Superlatones, we are creating our very own directory"a musical wish-list, if you will"of artists who have yet to join the collaborative bandwagon.
This week, we feature two artists who credit their popularity just as much to their music as to the persona they command.  With their distinct style, sultry voices and mysterious airs, these women would have been the perfect leading ladies to the film noir era of the '40's. Are you ready to solve a mystery? Then follow us into the lives of this week's femme fatales¦
The Dynamic Duo:
Lana Del Rey and Paloma Faith
New York's Lana Del Rey, born Elizabeth Woolridge Grant, began her career under the moniker Lizzy Grant. The singer-songwriter later changed her name to Lana Del Ray for the release of her single Video Games, which became an instant success.  Her latest album Born To Die was released early this year with mixed reviews from critics and fans alike.