Talking to Sarah Lee Guthrie, daughter of Arlo and granddaughter of Woody, you'd never know she is folk music royalty. Even though her relatives have created some of the most enduring songs in the American music catalog"everything from "This Land is Your Land" (written by Woody in 1940) to "Alice's Restaurant" (released by Arlo in 1967)"Guthrie seems perfectly comfortable embracing her own rock style of music while honoring her folk legacy.
Although Guthrie and her musical partner and husband, Johnny Irion, are in the midst of creating their next album, the two have halted work to join Arlo and the rest of the Guthrie family on the "Guthrie Family Reunion" tour that will wind its way to a dozen venues and music festivals. To honor what would have been Woody Guthrie's 100th birthday on July 14, the family will perform sets that include Woody's songs, Arlo's songs, and new material written by the Guthrie family. Sarah Lee and Johnny will sing their original songs as well as "Airliner" by Wilco, whose members Jeff Tweedy and Pat Sansone are producing the duo's latest album due in 2013.
Sarah Lee Guthrie took some time out to talk about her family, her music and why she thinks her 9-year old daughter Olivia Nora Irion"known to the family as ONI"may well contribute to the family's music catalog.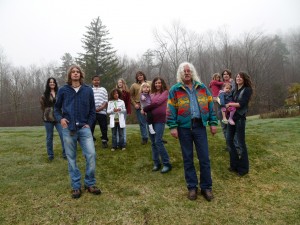 OS: Your own personal music"which you make with Johnny"is more rock than folk. Yet you also embrace your folk heritage. How do you balance the two formats?
SLG: It just comes naturally, really. Johnny and I love all kinds of music and we always put them all into the show. Johnny loves to rock but we also love to tip our hat to history. That is so important. But really, we just love experimenting and finding new voices. That is what [our career together] has uncovered. We really have a good time doing that and can't wait to create more. It is very exciting for us.
OS: A lot of second- or third-generation artists talk a lot about the fans that come to their shows. Some find it frustrating that the fans are there more to embrace the past than to listen to the newer music. You've never really voiced displeasure about any of that.
SLG: I have to say that for the most part, actually the whole part, the fan interactions I've had have been very positive. They always talk about how much Woody's music meant to them growing up and how much Arlo's songs have changed their lives. There are moments where it worries me and I wonder what they expect of me. But they've been very positive and very gracious. It's really been a great thing to have fans embrace the legacy.