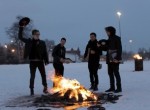 Patrick Stump has always been someone who strayed from the public eye when not standing in front of a room full of people. His level of celebrity could very easily hit the kind of level that warrants weekly news clippings (much like fellow bandmate Pete Wentz), but Stump has always chosen to remain in the grey. Such a lifestyle has allowed Stump to remain away from rumor mills for the most part, and in the case of this story, given more importance to the times he chooses to share his thoughts with the world.
In a new blog posted on his rarely updated Tumblr, the frontman of Fall Out Boy goes in depth on his feelings about modern day "hate culture." Stump speaks about the importance of having one's own opinion, and even goes as far as to say people need to stop being so over-the-top about hatred for folks like Dane Cook and Nickelback. You can read his post below.
Hey! Don't You Just Hate That (every)Thing?
How many people reading this are fans of Nickelback? How about Dane Cook? Now, I can safely assume that, unless this blog gets reposted on a site dedicated to those respective artists, those questions would be met with tumbleweeds and the distant sound of crickets. Like Creed or Limp Bizkit or the Dude! You're getting a Dell! kid, they've become ubiquitously hate-able. I would not be exaggerating to state I've simply never heard someone admit to liking them. (more…)