The Brooklyn-based trio Grooms debuted in 2010 with the album Rejoicer, prompting members of the press to haul out wheelbarrows full of references to ˜90s alt rock, with Pavement and Sonic Youth taking up the most room in the cart. Bandleader Travis Johnson admits that those comparisons were not completely without merit, but his band has moved into other realms with the follow-up, Prom. On this album we definitely moved away from some of the more classic ˜80s and ˜90s American indie-rock influences we've used before, he explains, We weren't really thinking of those bands at all when we were making this record¦ They were probably fairly accurate [as comparisons] before, but they seem less accurate to me now.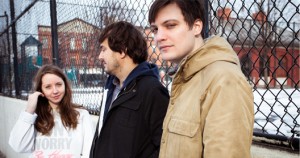 Where Rejoicer bore a relatively straightforward production style that put the focus squarely on Johnson's off-kilter guitar arithmetic, Prom is a shadowy record that plays a constant game of sonic hide-and-seek, offering flashes of rich textures that retreat evanescently before you can sink your teeth into them; it boasts a more 3-D approach to the recording process, turning the sounds emitted by Johnson, Emily Ambruso and Jim Sykes into a ghost army of funhouse-mirror reflections, teeming with complex textures and caroming constantly from bristling discord to fragile beauty and back again. So what was in Johnson's Soundcloud during the making of Prom? For this record we were listening more to things like Broadcast or Tortoise or Peter Gabriel or something, he says. The post-rock references ring true, and what's more, there's a quality to the album that recalls the try-anything aesthetic of other, nearly forgotten '90s acts of that ilk, like Long Fin Killie and Moonshake.
But there's one influence that has left a deeper mark on Johnson's songs than any band could, and that's his ongoing struggle with obsessive-compulsive disorder. Johnson has let it be known that much of his music is colored by his experiences with OCD, but going public with that kind of personal information wasn't a snap decision for him. I actually did have hesitations about it, he says, not because I care about people knowing things like that about me, but because I hate when people exploit things like that. I think I was actually talking to my mom, who also has OCD, and she was just talking about how it's not exploitative to talk about where the songs are coming from, which is largely through this really thick lens of OCD.