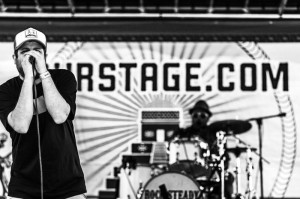 We were fans of Philadelphia Slick long before they won the opportunity to perform on the OurStage.com stage at last summer's Warped Tour, and so we're very happy to feature the band as this week's Pro Artist of the Week.
Describing them as a hip-hop group, while not inaccurate, fails to represent the breadth of the music they create. Each Philadelphia Slick song is a verbally punctuated vibe " a lush atmosphere created out of organic loops, horns, pianos and other keys, strings, and more.
As for the raps, Slick delivers attention commanding streams of consciousness that you'll spend at least five rewarding listens parsing. It's a rapid-fire series of thoughts and references that end up as a whole, in contrast to the more meaningless, non-stop pop-culture references you might be used to from some of the renowned clever hip-hop artists out there.
Check it out.