Andrew Varner calls his music pop with a purpose, meaning it's meant to provoke and inspire, not just show off his proficiency on piano. But there's no hiding those skills"all of Varner's songs contain expertly-wrought piano melodies blended with soft beats and bright strokes of electric guitar. Autumn Leaves introduces you to the singer-songwriter's dusty voice, fluid fingers and tender-hearted lyricism. On the polyrhythmic How To Be Alone, he takes turns ratcheting up the guitar to a fever pitch and downshifting into an easy, mid-tempo amble. Lest you get the idea that Varner's from the Bruce Hornsby school of rock, skip over to Let Me Down for dynamic, driving post-punk. Yeah, there are some nice cascading piano parts in there, but there's plenty of jagged edges, too. Even pianists get to be badasses.
Things happen when you're 13 " first kisses, first cigarettes, first piercings " and, if you're like Jes Hudak, first albums. Maybe it's a little precocious for a 9th grader to drop a record on her classmates and hit the local open mic night, but getting a head start can pay off. Now well into her 20s, the LA ingenue has already been a contestant on American Idol and Rock Star: INXS, toured with Enrique Iglesias, Maroon 5 and Howie Day, sung both the National Anthem at Giants Stadium and a Tom Jones cover for a Pantene commercial, and picked up her fair share of music awards along the way. Here's what the fuss is about: Hudak's limber voice and gift for writing insistent little piano melodies that won't let you soon forget them. National Holiday is blissed-out piano pop, while No One in the World is sexier terrain, where a chorus of cooing Hudaks and the squiggle of electric guitar raise the temperature. High school boys, eat your heart out.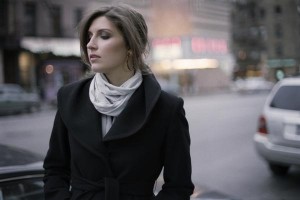 There are two ways to deal with a Magic Man. If you're Heart, you run away with him beg your mama to "try to understand." If you're Amy Crawford & The Electric, you temper your emotions with a healthy dose of skepticism.
The songwriter lays down the law with a spry piano melody and fool-me-not lyrics on her song, Magic Man: Don't tell me you'll do the best you can / You're wasting your time unless you're a magic man.  It's infectious and effervescent piano pop with vintage textures í  la The Beach Boys, only fronted by a clever girl with a lot more serotonin in her system. On her self-titled debut, Crawford and her band"The Electric"dole out a collection of upbeat gems that fall somewhere between Mates of State after a nap and Feist after a couple of sodas. Crawford's comely vocals and nimbleness on the ivories make for some bewitching listening. In other words, it's magic.