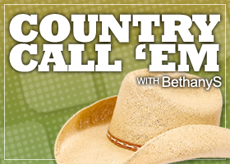 Sharing the spotlight is something very few superstars are willing to do. Unless of course, you're a country singer gearing up for an unforgettable duet. In an industry that celebrates teamwork with awards like "Musical Event of the Year," "Duo of the Year" and "Group of the Year," synergy is an art form that always succeeds in the ears of country fans.
In what I see as the pinnacle of duet dynamite, we have Brad Paisley and Alison Krauss's Whiskey Lullaby. The combination of Krauss's soft, melodic voice with Paisley's sharp but complementary vocals made this duet memorable long after its 2004 release. Whether it was the blend of two finely tuned voices, or the devastating lyrics that could draw a tear from the toughest cowboy, this song rose all the way to Number 3 on the Billboard Hot Country Singles chart, and won CMA awards for Musical Event of the Year and Best Music Video.  Krauss, who is often credited as the accompanying pipes on many a' country duet (like When You Say Nothing At All, a duet that emerged after layering her solo version with that of the original singer, Keith Whitley), truly has the voice of an angel, able to capture emotion and beauty with as single note. Alison released a compilation CD of both her most successful solo performances, and the plethora of duets she has contributed to, called A Hundred Miles or More: A Collection. Paisley is no stranger to stellar duets either. Brad  worked with icon Dolly Parton on  When I Get Where I'm Going, a song about what they each hope happens when they reach the afterlife. Most recently, Brad earned another CMA nomination for Musical Event of the Year for his 2009 duet Start a Band with country rocker Keith Urban. It seems whatever song either one of these Nashville hit-makers touchs is sure to turn to Billboard and award show gold.
How about picturing this kind of musical gold"a bad-boy rocker breaking down in a song of heartbreak with one of Nashville's most beautiful voices. That's what happened when Kid Rock teamed up with Sheryl Crow for their chart-topper Picture. Both of these artists are a little bit country and a little bit rock 'n' roll, so the song is a butt-kickin' ballad chock full of gritty voices and raw emotions. The track was the first country single either had released, and it proved to be more successful than any either had achieved before. Peaking at Number 4 on the Billboard Hot 100 and being nominated for a CMA Vocal Event of the Year in 2003, the song received accolades for its vocal and instrumental perfection. Clearly this duet was the missing piece to the puzzle of both Kid Rock and Crow's burgeoning country careers, as both have taken off and continue to produce amazing singles that carry on their legacies as Nashville success stories.
The Nashville hit-making title may belong to Mr. Kenny Chesney. So what happens when you
combine his signature style with that of fan favorite Dave Matthews? You get a laidback duet that screams Number One of course. I'm Alive has been hitting the airwaves in full force recently, and not only are the vocal stylings inspiring, but lyrics like And today you know, that's good enough for me. Breathing in and out's a blessing can't you see. Today's the first day of the rest of my life. And I'm alive and well truly make this a song anyone can stand behind. You can always leave it to Kenny to remind us what is important in life, and paired with Dave Matthew's songwriting chops, this song reaching the top spot is inevitable.
It seems that no matter who these stars pair themselves with, hits are sure to follow. From country legends to novices on the charts, teamwork is proving to be a sure-fire way to success. We all know that two heads are better than one, and these country duo's are proving that two voices are clearly better as well.