No. 1 with a bullet: Ah, that once-relatively elusive and exclusive room at the top. The holy grail for the pop single, it used to be as high an honor and as highly desirable as gold and platinum albums. But what does it mean when a star as marginally talented as Katy Perry can hit No. 1 five times on Billboard's Hot 100 in the space of one album (six times in one and a half albums, if you count Teenage Dream: The Complete Confection)? Or when Rihanna, who still hasn't scored a chart-topping album in six tries, can do in less than six years what took Madonna a dozen (hit No. 1 on the Hot 100 one time short of a dozen)?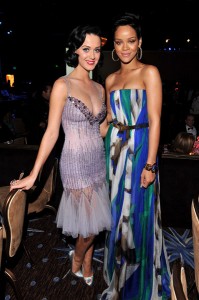 Does Teenage Dream have, well, a dream of ever being as iconic as Michael Jackson's Bad (which spawned five No. 1 hits and thus shares the record for most No. 1 singles from one album with Teenage Dream), George Michael's Faith (which produced four) or even Adele's 21 (a contemporary that launched three), none of which had to be re-released as a special expanded edition in order to pad its hit list and sales tally? For all her No. 1 singles, will any Rihanna album thus far ever be considered as landmark as Madonna's 1983 self-titled debut through 1989's Like a Prayer, which covered a comparable career time frame? Rihanna's yet to even break through the double-platinum glass ceiling.
Then there's Carly Rae Jepsen's Call Me Maybe, which just spent nine weeks atop Billboard's Hot 100 singles chart, making it the biggest song of the summer, if not 2012. It also makes her a surefire nominee for Best New Artist at the 2013 GRAMMY Awards ceremony. She'll face stiff-ish competition from Gotye and fun., who spent eight and six weeks at No. 1, respectively, with their respective singles, Somebody That I Used to Know and We Are Young. (more…)

One of the best releases of 2012 to date is Boys Don't Cry, an album of covers recorded by Anglo-Pakistani singer-songwriter Rumer (nee Sarah Joyce). As a vocalist, Rumer is soothing and smooth, strictly middle-of-the-road enough to earn her an invitation from U.S. President Barack Obama to perform at the White House in May, the month her album came out " but that's not to say she doesn't have a slightly subversive streak.
After all, who chooses to release a collection of remakes for their second full-length studio album. (Rumer's 2010 debut, Seasons of My Soul, earned her widespread acclaim, two Brit Award nominations, and a platinum certification in the U.K.)
Then there is the theme of Boys Don't Cry (whose title was not inspired by The Cure song, which is not among the album tracks): Everything on it was written and performed by male artists in the '70s. Somehow Rumer makes quintessentially guy songs like Ronnie Lane's "Just for a Moment" (about an instant of clarity in a drunken haze) and Neil Young's "A Man Needs a Maid" (title: self-explanatory) sound strong enough for a man but made for a woman.