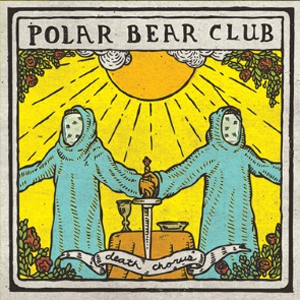 One of the most appealing things about Polar Bear Club has always been frontman Jimmy Stadt's guttural growl, which sounds like something that might come out of an angry boar's mouth if it was about to gore you to death (and also had a pretty good sense of melody). But Stadt's voice sounds different, really different, on their latest effort, Death Chorus. So different, in fact, that Stadt actually put out a statement regarding his vocals the day before the record was released, saying that his voice had changed and that his usual snarl now sounds like "pissy, hot garbage."
The change was noticeable enough on the album's first two singles, "Blood Balloon" and "Upstate Mosquito," that fans started " what else? " whining about it on the Internet. If they had only waited to hear the full record, listeners could have experienced just how well Stadt's new singing style fits in with the music on Death Chorus. While the album is somewhat of a departure for these upstate New York punks, far poppier and more digestible than their earlier material, it's also some of the most fun, shameless rock music to come out in 2013.
Featuring triumphant guitars and speedy drums, "Blood Balloon" and "Graph Paper Glory Days" kick off the record with gusto. These tracks, like many others throughout Death Chorus, are surprisingly reminiscent of the early-2000's pop-punk on Saves the Day's In Reverie, or even Something Corporate's Leaving Through the Window. "WLWYCD," another standout on the album, would have felt just as comfortable in 2003 as it does today.
(more…)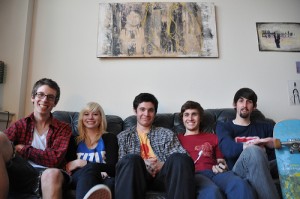 Alt-rock pop-punk band Tigers Jaw are streaming their 2008 Summer EP on YouTube. Their label, Run For Cover Records is taking pre-orders for reissues of this record as well as two others, including Tigers Jaw's self titled 12″ LP and Belongs To The Dead. Click here to find out more, and check out the first streaming track below called "Neighbors," a sad bare bones acoustic rendition.
If you like Tigers Jaw, then you might also like OurStage's own Shark Tape.
More Like This:

Here at Live Wired, we're always talking about how much the audience at a show affects the atmosphere and the performances themselves. Whether it's a nationally known act or an up and coming artist, it seems like a crowd can always make a difference and help create a memorable concert experience. Last week, we checked out one of the last dates of Polar Bear Club's tour with Fireworks, Balance and Composure and Such Gold where this concept definitely proved to be true"especially since one of the best things about pop-punk music is how much the passion and energy of the bands are mimicked by their fans. In a room full of people, you could rarely find anyone just standing in place; most were participating in the show in some way.
Together these bands make a pretty awesome tour package. All of them are constantly on the road and, at some point or another, have played shows together before. There was lots of love and support shown throughout the night, from both the fans and the band members. Such Gold, who hail from the same hometown as Polar Bear Club (Rochester, NY), joined in the middle of the tour and kicked things off with just as much energy as the rest of the night would bring, best highlighted in their last song, "Sycamore". Balance and Composure were up next, bringing to the table a slightly different style of music compared to all of the other bands. The excitement in their live show came from the power and uniqueness of their lead singer's voice, which was most evident in their performance of "Burden". Even when the music was slower in pace, the liveliness never faded and the nature of their music kept fans intrigued the whole time.