Veteran photographer Jesse Frohman isn't easily fazed. He may have become adept at photographing the "beautiful people" in celebdom, but he first began making a name for himself in the late '80s by capturing colorful moments on the fly with hip-hop provocateurs. So, when a drugged-up, freakishly attired Kurt Cobain strolled into his shoot three hours late in November of 1993, Frohman didn't flinch. After all, Jesse Frohman is the man who invited a militant-era Chuck D. into his house and insisted on putting a gun in the Public Enemy mastermind's hand. Fortunately it was all in the service of an iconic photo.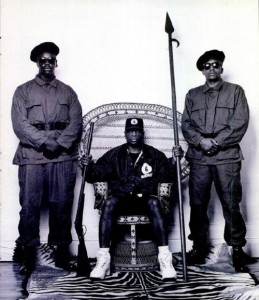 "That was a funny shoot," recalls Frohman, "because I told whoever was doing the props at the time, 'You've gotta get a gun,' because I wanted to do that [Black Panthers founder] Huey Newton-style picture, and he comes back with this grandpa gun, and Chuck D. was like 'Where's the Uzi?'" Frohman had some strange but memorable shoots with LL Cool J in those days too. "LL Cool J would say the funniest things, he would just call me randomly and say 'Okay, I want to get my Pathfinder up in the woods and we'll put a deer on the hood, and I'll get camouflage clothes' [laughs]. Just one thing after another, it was just a real crackup."
But even Public Enemy's intimidating image didn't rattle Frohman. "People really thought these guys were very much that way," he explains, "and it made me realize they're putting on a show" they were natural entertainers. When you'd meet them in person they'd drop their guard a little bit. I really didn't have any problems with anybody, I had more problems with people like Dee Dee Ramone out at my house; he picked up the brass knuckles that he gave me as a gift and tried to use them on me. He was having a bad reaction to some drugs he took."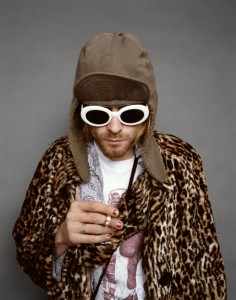 Frohman doesn't even betray an ounce of chagrin when he recalls getting kicked out of a shoot by the artists themselves. "Green Day was a great band to shoot," he begins. "they get the attitude, they're zany, they don't care what they look like, they just want to have fun in the pictures, and they put on a show a little bit." Then he drops the other shoe, continuing, "The funny thing about Green Day is, a magazine said, 'They're on tour,' would I mind going to the show and doing a few pictures there? I went to the show and Billie [Joe Armstrong] says after the first couple of songs, 'How about we kick the goddamn photographer out of here?' I'm trying to say, 'No, it's me Billie! We just had this four-hour shoot!' He either didn't see me or he didn't care, and I was kicked out, so I didn't get concert pictures." But Frohman wasn't just fattening his portfolio by banging around with all these enfants terrible, he was gaining combat experience. "They were colorful," he says of the aforementioned artists, "they were interesting, they were great subjects, and it really set me up for a shoot like Nirvana and Kurt Cobain."
Frohman sets the scene for his short but momentous Cobain encounter, "I think it was November 15, 1993," he remembers. "The London Observer magazine asked if I would do a cover story on [Nirvana]. They set up a shoot that we all agreed would be five hours. They were in New York performing at Roseland that night, so we had the late morning/afternoon to do the shoot. When I arrived at the hotel, I met the manager at the lobby and he said, 'The plans have changed, and we don't have anything close to five hours now, and we have to shoot in the hotel.' He had reserved a conference room for us. We were planning on shooting in Central Park and on the street, that's what I was set up for, and he nixed all that. So that was the beginning of the experience."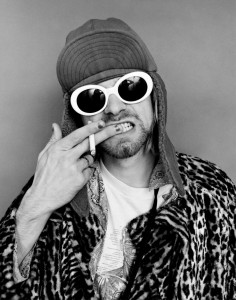 If you're thinking it got worse after that, you're right. Nirvana rhythm section Dave Grohl and Krist Novoselic showed up for the shoot only to find their fearless leader MIA, so they departed. When they returned some time later, the singer had still not turned up. Finally, a chemically-enhanced Cobain wandered in with only twenty minutes left in Frohman's alotted time. He arrived with an absurd, garish ensemble including a leopard jacket that looked like it belonged to someone's grandmother, an earflap-adorned aviator hat of the sort pilots sported in WWII, and a pair of huge plastic sunglasses that would have been better suited to Jackie Onassis. To make matters more difficult, Frohman recalls, "Once he put those glasses on he wouldn't take them off, so I didn't get any pictures with his glasses off except when I went to Roseland and shot him on stage."
Fortunately, Frohman's luck soon turned around, and he found himself getting some great, soon-to-be-iconic images of the bedraggled rock star. "Maybe not the most flattering pictures," he allows, "but he was very expressive. He was nice, and he was fine to shoot. It was definitely a partnership in making a picture, but he wasn't demanding, he wasn't difficult. He was really very easy to photograph, and that was really my saving grace, because I didn't have enough time to work with somebody that wanted to change outfits or wanted to take a break"he just walked in and stood up against the wall and he was a happy camper."
Following the band along to their Roseland gig for some stage shots, he marveled at Cobain's ability to operate in his impaired state, even though Frohman had no way of knowing how dire the situation really was at that point. "There's a lot of people out there that have problems or have moments where they're in that state," Frohman says, "and he was a rock star, so you just accepted it, and I was really just concerned with my shoot. And then I traveled with him to Roseland and there was no problem, he was fully functioning. He got up and he conducted rehearsal and he performed that night. To me it was remarkable that he was able to do that with such ease. I don't know how he was able to do it."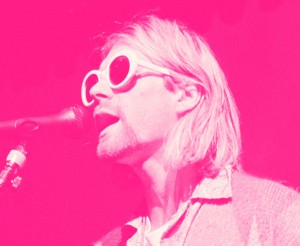 Of course, he wouldn't be able to do it for much longer. on April 5, 1994, Cobain made the jump from superstar to rock & roll martyr. To memorialize the eighteenth anniversary of that tragic event, Frohman decided to partner with the renowned Morrison Hotel Gallery in New York City, famed for featuring rock-oriented photo shows, to present his complete collection of images from that fateful day in '93. "It was interesting to look at a shoot from that long a period ago," says Frohman of putting the exhibition together. "There's lots of memories about the shoot, about the day and what I expected and what I finally got out of it, and I think that some shoots take on a life of their own. It's really because of him, not me, to a large extent, but it definitely was a partnership. Had I done some snapshots of him at Roseland, or on the street, I wouldn't have had the shoot that I had, so I'm fortunate that I had to shoot in a conference room and I made the best out of it. It was a twenty-minute shoot, you don't know that it can become something."
Even so, the decision to do the show was not an automatic one for Frohman. "I went back and forth," he explains, "'Do I want to do this or not,' then I said 'I really do.' I think it's the time that there's enough interest in Kurt and it makes sense photographically. I think it makes sense in this time and place to do something like this." Allowing all of his rare, raw images of the rocker's endgame to be seen together like this for the first time (the show will be up throughout the month of April) Frohman not only makes a major photographic statement, but marks a strange, sad, stirring juncture in rock history.