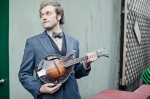 It seems only fair to say that most creative individuals would love the opportunity to pursue their passions and add to the creative circuit in one way or another, particularly without the worry of tight funds. Enter: The MacArthur Foundation Genius Grant.
This five-year grant offers extraordinarily talented individuals $500,000 to pursue their goals and passions with no strings attached. Who better to receive this prestigious grant than Punch Brothers mandolin player, Chris Thile.
After ignoring the foundation's attempts to contact him by phone, believing them to be automated election-year calls, Thile eventually got wind of their true nature.
"I've never felt so internally warm, Thile told the AP. My heart was racing. All of a sudden, I felt very askew physically. I was trying to catch my breath. . . . I thought, 'Oh my God, did I win a MacArthur?'"
He had. After finding success with Nickel Creek, Thile then assembled the Punch Brothers in 2006, finding success, and now prestige once more. So what are his plans for the money? Thile has said he may use the grant to fund a chamber music project for a bluegrass quintet.
You can find the talented winner on tour with the Punch Brothers through December.

It's difficult to imagine a more poignant moment than when Ricky Skaggs and his band Kentucky Thunder played a moving rendition of "You Can't Shake Jesus," at the recent FloydFest in southern Virginia.
Although the 15,000-plus fans that packed each of the four days of the festival heard from a top-flight roster of artists including Emmylou Harris, Brandi Carlile, the Punch Brothers, Jackson Browne, and others, it was Skaggs' virtuoso playing and heartfelt vocals that enticed concertgoers to stand in the searing sun and cheer, even as FloydFest wound down. Although Skaggs also teamed up with Bruce Hornsby for some power-packed songs, it's difficult to imagine anything more lovely than the set Skaggs and his band played before meeting and greeting fans.
"It's the most unusual gospel record I've ever done," Skaggs told the crowd about Mosaic, the album from which "You Can't Shake Jesus" was taken. "It's not bluegrass and it's not country, but you'll like it. It's good."
Anyone wanting to sum up Skaggs' career and appeal could likely turn to that line for reference. After making a name for himself as a major country star, he moved to bluegrass and even dabbled in other formats with special interest in gospel and Christian-themed songs. The result included 24 singles on Billboard's Top 20, including 12 at #1 and an array of awards and honors, including 14 GRAMMY Awards, eight CMA Awards (including Entertainer of the Year), eight ACM Awards, two Dove Awards and nine ICM (Inspirational Country Music) Awards.