It's that time of the year again: when people take words that others have said and twist them around to fit their own individual message. And no, we don't mean election season; it's time for another volume of Punk Goes Pop! In the fifth installment of the popular decade-old Fearless Records compilation, we get a mix of tunes from '80s classics to contemporary chart-toppers. Here are five of our favorites from the upcoming November 6 release. (more…)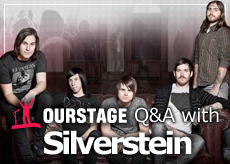 In a scene where the "next big thing" seems to be different every day, Silverstein is one of the few bands able to maintain their place among the best in the post-hardcore genre. It's not hard to see why, either, as they've worked tirelessly for a decade, writing, recording and touring non-stop. They've released four LPs, two EPs, a live DVD and individual tracks for successful compilations like Punk Goes Acoustic 2 and Punk Goes Pop 2, and toured all over the world, including runs with the Vans Warped Tour, Taste of Chaos and Australia's Soundwave Festival.
Today, Silverstein releases their brand new EP, Transitions, a collection of B-sides and previously unreleased tracks. The band will be putting out their eagerly-anticipated fifth album in 2011, after touring through their home country of Canada, the US and Australia. We had the pleasure of catching up with vocalist Shane Told to hear his thoughts on today's modern rock scene, the story behind the new album and what to expect on the next big tour.
OS: You're currently out on a Canadian tour with The Devil Wears Prada. How have the shows been so far?
ST: They've been awesome! We've been across the country now and we're on our way back east. It's been really good. We've known The Devil Wears Prada ever since they were just a local band in Ohio and watched them grow and watched their popularity really skyrocket, so it's kind of cool now to be doing like a co-headlining tour together and sharing everything and splitting everything 50/50. It's a cool thing to see a band go from being basically high school kids to a real, legit, serious band. The shows have been awesome, the only thing that's sucked is the drives! The drives are the worst. We had to drive one time 30 hours straight, in the middle of nowhere where there's no cell phone service or anything…we ended up buying Monopoly. The only one they had was Disney Monopoly so we ended up playing Disney Monopoly for as long as we could to kill some time on the bus while we were driving (laughs).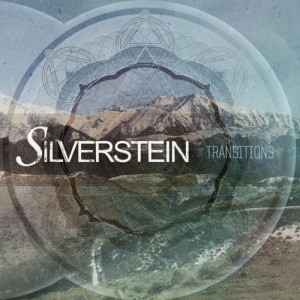 OS: You have a brand new EP called Transitions, which includes two tracks from your upcoming album. What made you decide to release these songs in advance?
ST: We kind of wanted to do something to hold our fans over until the record came out. Not only that, but we also just had a lot of songs this time around. We went in the studio and we recorded…I think we were going to record seventeen and we actually decided"I haven't told anybody about this yet! We had a little extra time in the studio when we recorded the drums and we recorded in a really nice studio and wanted to use all the studio time. So, what we did is, we tried to write a song in one hour. We did it, we filmed it. We haven't finished tracking all the parts but we wrote it and we recorded all the drums for it. We had a lot of extra stuff so we put this EP together. I've always been a fan of EPs, I think it's because I have the worst attention span. With so many records, I love the first six songs…and then with albums, I'll be like, "I love that album," but I won't even know what track 11 sounds like. I always thought it would be better if a band, instead of putting out a full-length album every two years, they put out an EP every year (laughs). I always liked that more. So we decided to put out an EP because we like EPs, and we had the extra stuff to give our fans a little treat before the holidays.
OS: You've said that the new record will not be a concept album, like 2009's A Shipwreck in the Sand. Can you tell us a bit about the lyrical themes of the new material?
ST: It's kind of broad to say it, but it really is just about my life. Everything I've gone through over the last ten years of being in this band and going through the relationships I've gone through and doing what I've had to do…the ride that it's been. I was on stage and we played a new song from the EP, it's an acoustic song…and I just said like, "This song is about my life." And it is. This record is way more personal than A Shipwreck in the Sand. It's way more through my eyes and things that I've seen, rather than through a character's eyes, that I sort of created. It's a lot different. I loved writing Shipwreck, it was challenging and fun and I'm really proud of it, but with this record, I didn't want to do that again. I wanted to get some things of my chest and explore a lot of different themes, not just one. I'm sure down the road, we'll do another concept album…but this time around, I just didn't want to force it.
OS: Musically, how would you describe the new album?
ST: It's pretty heavy, I think. There's a lot of screaming on this record, but at the same time, we really tried to make the choruses pop and make it catchy, as well. There's quite a few technical parts, parts that aren't exactly the easiest to play on guitar and drums and stuff. I think we dug deep and really tried to do some things that would challenge us as a band, but at the same time, we still wanted to write good songs and didn't want to make extraneously long parts that didn't go anywhere. The songs are relatively short and to the point. It's sort of more like The Blue Album than it is Pinkerton, in a way. It's the Blue Album, not The Green Album…if you like my Weezer analogy!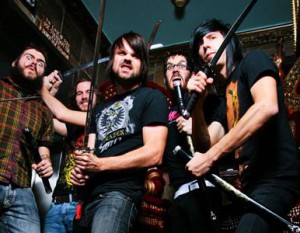 OS: Having been a band for ten years, and with a steady stream of new bands constantly emerging in your genre, do you ever find yourself pressured to stay relevant?
ST: Yeah. I actually had a really great conversation with a guy on the tour in a band called For Today about that. We were just talking about all these bands coming out now that are basically playing to backing tracks. It's something I've never really encountered. We've been a band for ten years and I think the only band we ever encountered that had backing tracks that we played with was like, Avril Lavigne's. It's just weird to have bands in hardcore doing that. It really sucks because obviously if you play your CD live, it's going to sound better than having to mic all the instruments and playing them live. So then kids go and see a band and they're like, "oh, this band sounds awesome!" Well, they sound awesome because it's not real. That kind of stuff is upsetting. We'll never play to a backing track, just because of where we come from. Nowadays, I think part of it might be because of the technology that's in studios now…bands record and it's not real, either. Bands will record entire songs on guitar, literally recording one note at a time and then placing it all together. When you do that, that comes off in the studio and you start doing stuff like that live, just to try to get a step ahead of the next band. We don't let it phase us. We don't want to play to backing tracks, we just want to be real and play the best we can and have fun and write the best songs we can. We're not trying to be the heaviest band out there or try to out-do anybody. That's, I think, the whole problem with this genre now. These bands are coming out and they're tuning lower and lower and trying to be heavier than the next guy and have the "sicker breakdown" or whatever, and to me, that's just tiring. We just want to write the best songs we can and have a good time. It's a bit disheartening to me that things have gotten this way now.
OS: In January, you're hitting the road with Pierce the Veil, Miss May I, The Chariot and Bullet for a Pretty Boy. What can fans expect from this tour?
ST: A lot of great bands, a bit of a diverse lineup. Pierce the Veil is a great band. We've been friends and fans of them for a long time so we're really happy to have them. Miss May I is a younger band that's blowing up right now, kids are loving them. The Chariot is a super heavy band that we've also been big fans of for a long time, so it's a bit all over the place with the lineup, but I kind of like that. With my influences, they span everything from folk music to death metal, so I love it. I think it's going to be a really good bill and I think if kids get there early and watch the whole show, there's going to be something for everybody. It'll open up people's minds a little bit to some new music! It's also good that we're playing a lot of the smaller cities, they call the "B-Markets", so it will be cool to bring really great lineups to those smaller cities that might not get a lot of shows. We're really happy about that. We'll be touring in the major markets a little bit later in the year and we're stoked about that too. There will be more details about the tour we're going to be on later, I think pretty shortly.
OS: In February, you'll be playing at Soundwave Festival in Australia for the second time. What are you most looking forward to this time around?
ST: Well, Australia's the best! It's incredible. We did it two years ago and the lineup was just insane. Our stage, which wasn't even the main stage, had some of my favorite bands. It was like, Alkaline Trio and Saves the Day and Rival Schools and Face to Face, the list goes on and on. That was just our stage, not to mention Nine Inch Nails was the headliner. It was the coolest thing. I think the only reason they can pull that off is because bands love going to Australia so much. It's such a beautiful place, so bands are like "Yeah, sure, just fly us over, we'll go!"  The people are awesome, they have great food, the weather's awesome, it's really just a beautiful, clean country. I think that's why they can put together such a great lineup for Soundwave every single year. I don't think there's anywhere else in the world they can pull that off. We're really excited for that and hanging out with some really great friends of ours, too, on that tour. We're really looking forward to it!
Be sure to pick up Silverstein's new EP, Transitions, on iTunes now, and don't miss Silverstein on tour this winter. Check out the tour stops below!
December 8, 2010 – Saskatoon, SK @ Louis Pub
December 9, 2010 – Fargo, ND @ The Venue
December 10, 2010 – Milwaukee, WI @ Rave
December 11, 2010 – Toronto, ON @ Kool Haus
January 7, 2011 – Clifton Park, NY @ Northern Lights
January 8, 2011 – Allentown, PA @ Crocodile Rock
January 9, 2011 – Poughkeepsie, NY @ The Chance
January 11, 2011 – Toledo, OH @ Headliners
January 12, 2011 – Madison, WI @ Majestic Theatre
January 13, 2011 – Palatine, IL @ Durty Nellie's
January 14, 2011 – Iowa City, IA @ Blue Moose Tap House
January 15, 2011 – Springfield, MO @ Remmingtons Downtown
January 16, 2011 – Tulsa, OK @ The Marquee Theatre
January 18, 2011 – Albuquerque, NM @ Sunshine Theater
January 19, 2011 – Tucson, AZ @ The Rock
January 20, 2011 – Las Vegas, NV @ Hard Rock Cafe
January 21, 2011 – Pomona, CA @ The Glass House
January 22, 2011 – Orangevale, CA @ The Boardwalk
January 23, 2011 – Reno, NV @ Knitting Factory
January 25, 2011 – Colorado Springs, CO @ Black Sheep
January 26, 2011 – Kansas City, MO @ Beaumont Club
January 27, 2011 – St. Louis, MO @ Pops Nite Club
January 28, 2011 – Lansing, MI @ The Loft
January 29, 2011 – Buffalo, NY @ Xtreme Wheelz
January 30, 2011 – Baltimore, MD @ Sonar
February 26, 2011 – Brisbane, AU @ Soundwave Festival
February 27, 2011 – Sydney, AU @ Soundwave Festival
March 4, 2011 – Melbourne, AU @ Soundwave Festival
March 5, 2011 – Adelaide, AU @ Soundwave Festival
March 7, 2011 – Perth, AU @ Soundwave Festival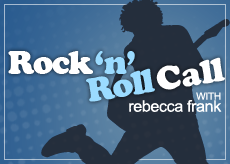 It's been ten years since the release of Punk Goes Metal, the first of a nine-disc set of cover compilations released by Fearless Records. Today, the tenth installment in the series, Punk Goes Pop, Volume 3, hits shelves.
Upon first view of the tracklisting, you may be surprised to see which artists appear on this record. While the early Punk Goes… albums featured scene staples like Yellowcard, The Starting Line, Thrice and Taking Back Sunday, Punk Goes Pop, Volume 3's lineup includes few artists that the average music listener would know (and certainly no bands that truly qualify as "punk"). The question from here on out, then, is: Can the underdogs pull their weight?
The album starts off with a cover of Jay Sean's "Down" by "crunkcore" duo Breathe Carolina. Unfortunately for Breathe Carolina, the very mention of "crunkcore" will be enough to keep many from giving this track a chance.
"Down" does set the tone for most of the record, though, which reflects the hottest trend in pop rock: the electronic-meets-screamo style made famous by bands like Attack Attack! and 3OH!3. If this doesn't sound like your cup of tea, be warned: you probably won't like most of Punk Goes Pop, Volume 3.
The third track, a cover of Lady Gaga's "Bad Romance," comes to us from OurStage band Artist Vs Poet. Though it's been covered a million times already, this is a solid version of it and remains very true to the original.
Another highlight of the record is Mayday Parade's cover of Jason Derülo's "In My Head." Vocalist Derek Sanders can hit all the high notes without relying on autotune, and the track as a whole is refreshingly straight forward and not overproduced.
After the harmony-laden pop vocals of Sparks the Rescue's cover of "Need You Now" by Lady Antebellum fade out, you may be caught off-guard by the growls of We Came As Romans vocalist David Stephens. Romans' cover of "My Love" actually ends the record nicely, though, with clean vocalist Kyle Pavone's Justin Timberlake-like croon going head-to-head with breakdowns and synth riffs.
Unfortunately, covers do not always do the original song justice (you'll probably find yourself skipping The Ready Set's bland version of B.o.B and Hayley Williams' "Airplanes"), but if you're a fan of teen "popcore," you're likely to be pleasantly surprised with this collection.
Pick up Punk Goes Pop, Volume 3 in record stores and online today and check out Mayday Parade's cover of "In My Head" below!
Tracklisting:
1. Breathe Carolina – "Down" (originally recorded by Jay Sean ft. Lil Wayne)
2. Woe, Is Me – "Hot 'N Cold" (originally recorded by Katy Perry)
3. Artist Vs Poet – "Bad Romance" (originally recorded by Lady GaGa)
4. Mayday Parade – "In My Head" (originally recorded by Jason Derülo)
5. Asking Alexandria – "Right Now (Na Na Na)" (originally recorded by Akon)
6. This Century – "Paper Planes" (originally recorded by M.I.A.)
7. The Word Alive – "Heartless" (originally recorded by Kanye West)
8. Family Force 5 – "Bulletproof" (originally recorded by La Roux)
9. Of Mice & Men – "Blame It" (originally recorded by Jamie Foxx ft. T-Pain)
10. Miss May I – "Run This Town" (originally recorded by Jay-Z ft. Kanye West and Rihanna)
11. The Ready Set – "Airplanes" (originally recorded by B.o.B ft. Hayley Williams)
12. Cute Is What We Aim For – "Dead And Gone" (originally recorded by T.I. ft. Justin Timberlake)
13. Sparks The Rescue – "Need You Now" (originally recorded by Lady Antebellum)
14. We Came As Romans – "My Love" (originally recorded by Justin Timberlake ft. T.I.)