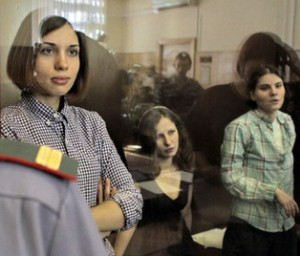 Good news. In a goodwill maneuver, Russian President Vladimir Putin announced an amnesty for a slew of prisoners, including Nadezhda Tolokonnikova, 24, and Maria Alyokhina, 25, both of the punk rock band Pussy Riot.
The women were sentenced to two years in prison for staging a protest performance in a Russian church. Over the last several months, Tolokonnikova, known as Nadia, has been the subject of intense international concern, first for her health as she staged a hunger strike, and then for her safety as she disappeared for several weeks during the course of a transfer. She later turned up in a Siberian prison colony.
It's easy to see this move as a public relations tactic in advance of Russia's hosting of the Winter Olympic Games, and the president was very clear that amnesty was not granted because of the specifics of the cases (30 Greenpeace activists will also be freed), but rather in honor of the 20th anniversary of Russia's post-Soviet constitution. He said, "I was not sorry that they (the Pussy Riot members) ended up behind bars. I was sorry that they were engaged in such disgraceful behavior, which in my view was degrading to the dignity of women."
Okay, Putin.
Lawyers for the Pussy Riot members hope the women, who were scheduled for release in March 2014, will be freed within the next few days. A third member, Yekaterina Samutsevich, was convicted along with her bandmates but had her sentence suspended on appeal.

More like this:
Pussy Riot Declared Guilty Of Hooliganism, Receive Two Years In Prison, Remain Punk As Hell
Pussy Riot Member Reportedly In Serious Condition, Family Denied Access
Russian Officials Address Reports Of Missing Pussy Riot Member