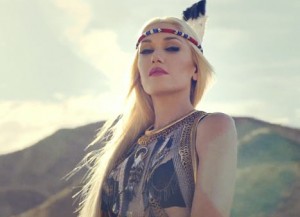 This past Friday, No Doubt released a music video for their newest single "Looking Hot" off their latest album Push And Shove, but it was immediately removed after being criticized for offending the Native American community.
According to Billboard, the video features Gwen Stefani in a "Halloween-ready Native American costume, while bassist Tony Kanal is [a] tribesman who helps the singer escape from her cowboy captors, played by Adrian Young and Tom Dumont." Due to a large negative response from YouTube users, the band decided to pull the video, releasing an apology on their website. Whether or not a remake is in store has yet to be determined.
If you like No Doubt, then you might also like OurStage's own The Worsties.
More Like This
Watch This! Wednesday: No Doubt, Craig Owens, And Green Day
Sound And Vision: No Doubt Rides Again"But Can Gwen Stefani & Co. Rise Again?
No Doubt Reveal New Album Title, ˜Push And Shove', And First Single
We love passing new music videos around the OurStage office, and now we're going to be sharing our finds with you. Here's this week's freshest new clips!

No Doubt – "Push And Shove"
Gwen and ND are back, and the title track of Push And Shove proves that they haven't lost their spark. In this clip, the band roam the streets and host tour-bus singalongs of their own song. It's easy to tell that the band is simply happy to be together again.
Craig Owens – "No More San Francisco"
If you've been following Chiodos/Cinematic Sunrise/Isles & Glaciers/D.R.U.G.S. and/or Craig Owens' solo career for the past few years, then this video is for you. Though Owens is known for his electric stage presence, he shows his softer side on "No More San Francisco," baring his soul with an empty room and an acoustic guitar. (more…)

No Doubt's new album is finally upon us. Though the group has been hinting at a release of their new record since 2010, there was never any solid information from the band, and we waited in teaser limbo. But no longer. On Monday, the band posted a special update to their website, outlining details of the upcoming release.
"While adding the finishing touches to our new album we realized it was time to name it¦so we did, and the name is¦(drum roll please)¦'Push and Shove' !!!"
So there you have it, Push and Shove, with a release date set for September 25. The band had been teasing fans over the past few weeks prior to the title reveal. Little tidbits of information here and there. An album release date here, hints of an upcoming single there.
News of the album's title and release date was accompanied by the announcement of the first single, "Settle Down," as well as an upcoming music video for the track to be directed by longtime collaborator Sophie Muller. Muller has directed a number of videos for the band and for frontwoman Gwen Stefani's solo career, helming the visuals for "Don't Speak," "Sunday Morning," "Underneath It All," and "Cool," among others.
Check out No Doubt's first in-studio webisode for a preview of Push and Shove.