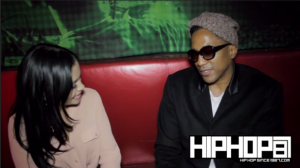 I hope you all had a G.O.O.D. Cruel Summer. It's time to head back to Cruel School, just in time for Cruel Fall. And it'll be Cruel Winter before you know it.
Q-Tip, one of the more sage members of Kanye West's G.O.O.D. Music clique, dished some heavy information in an interview with HipHopSince1987, a blog whose name is self explanatory. Like his ancestry; the title for Q-Tip's upcoming fourth solo record, The Last Zulu, was inspired by his discovery of his South African Zulu lineage thanks to a birthday DNA test courtesy of his manager. Forensic genealogy, now that's a thoughtful gift idea.
But Q-Tip, real name Kamaal Ibn John Fareed, wasn't done talking records.

You may not be familiar with this beautiful British import, but VV Brown is no newbie. Born Vanessa Brown in Northampton, England, the beautiful singer-songwriter-model-actress is already a star overseas.  Her debut album Travelling Like The Light soared to No. 1 on the French Digital Album chart and prompted a sold-out UK tour in 2009.
In 2010, she hit the road with Maroon 5, joining their North American tour before jumping on the UK leg of Pink's Carnival Tour.  She hit the stage with Jill Scott and Mary J. Blige for BET's Black Girls Rock.  She also made the television rounds on Ellen, The Late Show with David Letterman, Rachael Ray and Jimmy Kimmel Live! (among others) with her single, Shark In The Water, which eventually went gold in the US.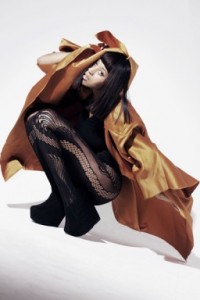 In November, she was featured on MTV's documentary series, World of Jenks, chronicling her break into the US.
market. She describes her style as alternative pop, with her cutesy delivery disguising the deeper underlying notes on modern-day society that permeate her lyrics.
There's something instantly cool about this soft-spoken import, who counts Q-Tip as a friend.  She has played at huge festivals like SXSW and Glastonbury, and toured two continents with major headliners, and still she's noticeably grounded.
A true artist in every aspect, VV casually references the amazing architecture of Chicago, or notes the beauty that can be found in the lines of a vintage jacket during a conversation about touring.  I like being creative. I love it from the core of my belly.  It's what I would be doing either way.  She seems to find the beauty in everything, and reflects it in her music, her personal style and her demeanor.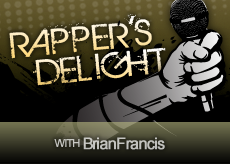 Many people know Saigon primarily for his role on Entourage, but that doesn't mean he hasn't been busy. With seven mixtapes and four street albums, it's surprising that he has yet to release a full studio album: until now. The Greatest Story Never Told, released in mid-February, was initially scheduled to drop in 2007 but suffered several years of delay. Despite being Saigon's first studio album, it's loaded with high profile hip hop characters on both the rapping end and the production end. Primarily produced by Just Blaze, the album also boasts production from some big namers including Kanye West and Buckwild. Not to mention some emcee features by the likes of Q-Tip, Jay-Z, Black Thought and Devin the Dude. Saigon proclaimed that The Greatest Story Never Told is the best album of the last two decades. That may be an exaggeration, but let's take a closer look.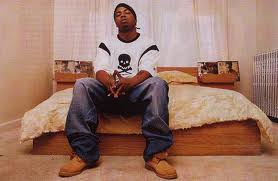 Upon an initial listen, a couple of things stand out immediately. First off, the production level is very solid. It is not only polished and clean, but also maintains a level of connectivity throughout the album. Secondly, Saigon stays away from the overused auto-tune cop out and keeps the vocals authentic sounding. This, in turn, helps make the album as a whole feel authentic. Overall, The Greatest Story Never Told is about telling the truth; the truth about surviving in the ghetto. "Enemies," for example, talks about growing up with betrayal. A bitter Saigon repeatedly asks the question "With friends like you, who needs enemies?" The album is broken up, however, with some lighthearted and commercially-friendly reprieves such as "What The Lovers Do" with Devin the Dude. Also "Come On Baby" (featuring Jay-Z) is upbeat, loud and ostentatious, which helps take the edge off of the stinging prior song, "The Invitation." After eighteen tracks, the album does come full circle in the long run with "Too Long" as its final track. This haunting song makes you think about life in a serious way: "I gotta find my way out now, Lord tell me what's going on."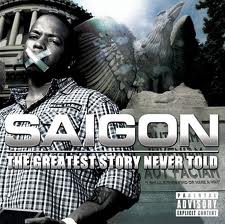 Saigon clearly wrote this album with a theme in mind. It seems like that should be a given for all artists, but that just isn't the case. Many artists consider any combination of ten or so tracks to be an "album" with no sense of a bigger picture. To say that The Greatest Story Never Told is the best album in the past twenty years would be untrue. But it certainly deserves a good listen and a lot of respect. Despite the rocky start to Saigon's hip hop career, this release just may be the beginning of an exciting future for him.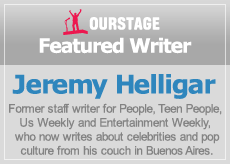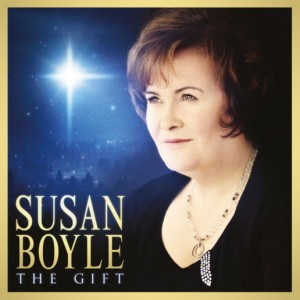 The year seems to be ending as it began: with Susan Boyle practically interchangeable snoozaks ruling Billboard's Top 200 album chart. Who would have guessed? Well, I did, but enough dwelling on the bad. Let's focus on the good stuff that happened in the last 12 months, and dream a dream that next year's gift is a Boyle-free holiday season. And now (in roughly chronological order), the best of the rest…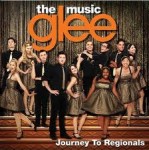 1) Journey's trek to the tops of the pops. Glee still makes my ears bleed, but by helping Journey score its first-ever UK hit"the band's '80s classic "Don't Stop Believin'" piggybacked on the smash Glee cover all the way to No. 6 in early 2010"those kids finally earned a round of applause. (We'll spare you the Glee link. Instead here's Sam Tsui covering Glee covering Journey)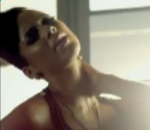 2) Alicia Keys' sleepless nights. Sunshine from rain. Pleasure from pain. "Try Sleeping with a Broken Heart" was the finest of Keys' string of great 2010 singles. I'm still up all night myself, tossing and turning, trying to figure out how it never climbed higher than No. 27 on the Hot 100.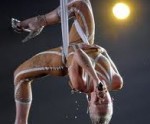 3) Pink goes up in the air. When I met Pink in 1999, before the release of her debut album, I was impressed, but I never suspected that a newcomer named after the hue of her hair would be a hitmaker a decade later? Topping off her continued chart success in 2010, the now-blonde, now-mom-to-be took the GRAMMYs over the top (in the very best way) with her highwire-acrobat act while performing "Glitter in the Air."
4)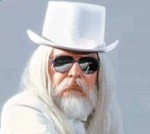 Leon Russell lives! Susan Boyle isn't the only one who began and ended 2010 on top. Russell kicked off the year wowing us at the GRAMMYs alongside the Zac Brown Band and finished it wowing us again, on the GRAMMY-nominated The Union alongside Elton John. Old Hank Wilson is back"but then he never really went away.
5)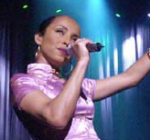 Sade returns, with guns blazing. Out of sight, out of mind, yes, but in the case of Sade, absence made the heart grow fonder indeed. Soldier of Love, the band's first album in nearly a decade, made one of the splashiest debuts of 2010, and" in a rare, welcome twist"was worth the wait. May the long-MIA-from-the-charts Shania Twain follow suit in 2011.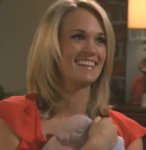 6) Carrie Underwood hooks Ted Mosby. Britney Spears's How I Met Your Mother guest spot got more hype in 2008, but Underwood, in her acting debut, was just as good in March's "Hooked" episode, nailing her stunt casting as a pharmaceutical-selling hottie stringing Ted along. Not even that adorable teacup pig could upstage her. More, please.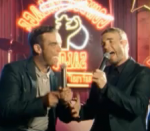 7) Robbie Williams hearts Gary Barlow in the "Shame" video. Boy meets boy, boy falls for boy, boy and boy live happily ever after in the newly reunited Take That members' send up of Brokeback Mountain. If only real life were so simple.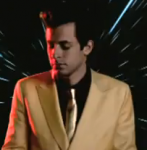 8) Vanity projects that rock. Timbaland's "If We Ever Meet Again" (featuring Katy Perry, from Shock Value II) and Mark Ronson's "Bang Bang Bang" (with Q-Tip and MNDR's Amanda Warner, from Record Collection) were pop rarities in 2010: distinctive producer-as-artist singles that matched the behind-the-scenes best of the guys who created them. David Guetta, king of the sound-alike musical tricks, this is how you do it.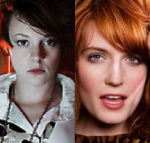 9) The British are coming… again! With Coldplay and Amy Winehouse in a holding pattern, La Roux and Florence + the Machine picked up the UK slack. La Roux became the first UK act in forever to reach the US Top 10 with "Bulletproof," and Florence + the Machine finally became more than hipster darlings as their debut disc, Lungs, burst into the Top 20, while their "Dog Days Are Over" single became a big enough hit to get the Glee treatment.
10) Girls girls girls! Love or loathe them, it was refreshing to see single ladies like Katy Perry, Rihanna, Nicki Minaj, Taylor Swift, Ke$ha, Gaga and others continue to transform music from a man's man's man's man's world into an estrogen-fueled empire. What are you waiting for, Shania? Come on, join the party!
Jeremy Helligar is a former staff writer for People, Teen People, Us Weekly and Entertainment Weekly, who now writes about celebrities and pop culture from his couch in Buenos Aires.

Nottz wants to restore the boom-bap in rap.  He misses the kind of hard-hitting bass patterns that formed the undercarriage of so many of hip hop's no-frills golden moments before Diddy added glamor to the street and took it mainstream.  As a beatmaker he has stuck to that creed in his productions of artists like Snoop Dogg, Kanye West and Busta Rhymes among countless others, both radio popular and underground. But this year he entered the club of producers who rap with his solo artist premiere You Need This Music.  It is a minute group peopled with such luminaries as Dr. Dre, Kanye West, J.Dilla, Diddy and Q-Tip who have all had different levels of success being able to direct the mic and hold it as well.  The artist role may be new to him but the lack of compromise that all great artists possess is already in his DNA. In this interview he explains why maintaining his vision is necessary, the creative process and why you really do need his music.
Why the transition to the artist slot?
There's a lot of wackness coming out right now to sum it all up. Too much trash coming out right now, my kids listen to this music. You got dope talk, you got gun talk, you got gang talk and all that and kids look at it like it's cool, and it's not cool.
How does it feel to have finished your first solo album and to now promote it and take on the duties of the artist?
I'm starting from the beginning. I really started out rapping and how I got into beats is no one would give me beats so I started doing my own thing. I like it and then I don't like it because a lot of people don't know who you are. They know my music as a producer but they don't know what I look like. But being an artist, it's hard for a new artist to come out being a producer. It kind of gives me a big push on everything.
I've noticed that you will produce someone like Kanye West then produce a rap act like Pitch Black.  A lot of guys on your level won't touch any underground rappers. Why are you so democratic?
It's just the way I was raised, my heart is bigger than anything. I will work with anyone, my manager will tell you I don't care who you are. I will work with you. I just want to hear good music on the radio. I just want to hear it. To hear good music is like the best thing to me.
You use a lot of soul samples and movies soundtracks, can you tell me something about your creative process?
The majority of the records that the tracks came from we had major artists that wanted to deal with the record but they got kind of scared of the record and didn't want to mess with it. The tracks that's up there I took from them, I said I'd write something to it and make it work. With the samples, my father he was a DJ back in the day in the ˜70s. And my brother he started doing DJing, and my dad has all kinds of soul records. I grew-up listening to all that so that's how I really got into soul. I really listen to everything from jazz, gospel and all that.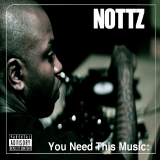 Why do hip hop fans "need this music"? What is different about your work from the stuff you call "flashy"?
It's good music trying to bring the boom-bap back the way it's supposed to be. Everything evolves, it's going back you had like Kid 'N Play and Just Ice and BDP and all that, and these young folks don't know about none of that. We really need to school them on this kind of music. The album I did, it's versatile. I got Travis Barker up there, I got Snoop up there, I got Dwele up there, Mayer Hawthorne, it's a whole record. It's full of substance. I'm not just rapping on it, I'm talking about something on it. I'm not going to the club making it rain and all that. It's just good music that the world needs to hear.
Any more updates on Dr. Dre's Detox that you have  worked on?
All I can say is it's coming out but I don't know when.
How did you connect with Dilla and what did you take from that relationship?
Dilla wanted to work with me. I was one of his favorite producers and it as crazy because he was one of mine. He came out here and we started working. At first he was little quiet until he felt everybody out and he just felt at home. I did a couple of joints for his album that was coming out on MCA. I did two joints and I guess Diamonds made it. I still got two records that nobody heard ever and you'll never hear them. I'm not wasting it right now. I probably never let people hear them unless you come here. That dude was so cool, he got Diamond D to produce a track for him. I was one of the first people he reached out to for that album. We were supposed to do an album together. We sent hundreds and hundreds of beats back and forth just vibing off of each other. He did the album with Jaylib. I wish my homie was still here, we'd take the world over right quick.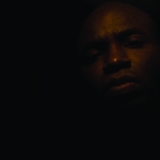 Your album with Rah Digga is solid and yet even you admit that not as many people that should be listening to her are. Why do you think she hasn't reached a larger audience yet? Do you think this album will change that?
You got the pop-rap people versus people who are on Digga's level. Digga is more of a rapper than an entertainer, it's no gimmicks with her. She's just raw. There's not too many female emcees who can touch her. Not even female emcees, emcees period. She's better than most dudes.
How did you come up with the beat for Dwele's I Wish?
I did it for Game and Dwele was like "We need to get Game on the record." I hit Game up and he said he would do it, but it never happened. I never told Dwele that, but he will see it now.
Who are your favorite producers?
Black Milk, 9th Wonder, Hi-Tek, Diamond D, Lord Finesse, it goes on. There's a lot of dudes out there. A lot of people don't hear these dudes and they need to hear them.
What's your advice to up-and-coming beatmakers on how to learn the business side of things?
You're gonna get shafted one day or another. You send beats out or whatever then you just got people who are just leaking your records. If you just get it started sometimes that don't even matter, it's free promotion. It's not doing you any good money wise, but it will help you out in the long run. As far as dudes being artists coming up, turn the radio off, stay in your own lane. I'm in the studio everyday from 4:00 to 4:00 except Sunday. I work.  I don't have a radio in here, a TV. I'm constantly working. I listen to my own music. Dilla always told me  "Man don't change for anybody." One year when I was making music, I changed my bassline and I could tell nobody was really feeling like they were the year before.
You did My Whole Life for Sunshine Anderson. Are there any other female R&B singers you would like to produce?
Everybody. I wanna produce for everybody, I don't care who you are.
What inspires you as a beatsmith and a rapper?
People doing the same thing I'm doing. People who want to make a change who want to bring the real hip hop back. Really the underdog, they inspire me.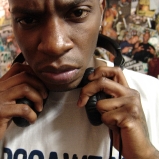 Anything else?
You know we have the Raw project coming out in November. Me and Asher Roth, that's going to be crazy. We got Derrick 32Zero on the Raw Concept label. We have Stacey Epps is coming out. Truck North is coming out.
How do you like being a label owner?
I love it. We don't have to answer to anyone but ourselves and the fans. The fans are the ones that count. At a major label, they just throw stuff out and if people don't bite on to it then you're done.
Are you going to tour the record or do any videos?
We got a couple of videos. We probably shoot the one with Snoop then we're going to shoot the one with Dwele, the one with Mayer Hawthorne and we're going to do a couple of videos off the Raw EP.
Tamara Harris is a music blogger who has published past work in Blues and Soul, Floss, Grip, AOL City and The Metro Times.