This week at SoundTrax, we've curated a playlist that sounds like sunsets, shimmers like the '80s and warms you up like a summer bonfire. Every artist featured here borrows heavily from the dance vernacular but also have a clear affinity for fuzzy, jangly, indie pop. What emerges from these two influences is a sound that is steeped in nostalgia but remarkably fresh. Maybe it is this aspect of retro-futurism; straddling the sounds of the past and future with such dexterity, that make the style stand out so well in the present landscape of recycled pop music. Think of it as the sonic equivalent to Instagram. This is the perfect playlist for the end of a long night with friends, when you still don't want the party to end, but the ringing in your ears leaves you no choice. There's equal parts guitar and synth work, just as much kit thrashing as button pressing and enough disco swagger to bring the genre back from the grave.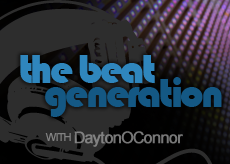 They say that imitation is the sincerest form of flattery. I mean, have you ever seen a really reverential cover band performing live, everything note perfect and in the right place. They're serious about it, man"and if you don't believe me check out this piece by author Chuck Klosterman on Paradise City, a Guns N' Roses cover band out of Cincinnati, Ohio. They mean business.
But back to the topic at hand. If imitation is flattery, what does that make reinvention? Well, in the hands of the amateur it can be derivative, a blasphemous affront to the source material. But, with a skilled auteur at the helm, a remix can be an improvement, a singular reinterpretation which breathes new life into the work it is now a part of. They're inherently reflexive, adding to and immediately becoming part of the experience of both songs. As long as it's good, of course. That's why we wanted to show a little love to some of the best remixers in the game right now.
Netsky
The young Belgian signed to Hospital Records has had a lot of success in his young career (having earned the award for "Best Newcomer Producer" at the 2010 Drum & Bass Arena Awards and recently breaking onto the Hype that Sound's Top 100 Social DJs list) and it looks like 2011 is going to be another banner year for the Drum & Bass DJ. Having already ripped up Swedish House Mafia's "One" and Plan B's "The Recluse", Netsky (aka Boris Daenen) may have had his biggest coup recently with his work on fellow mega producer Rusko's track "Everyday". While the original track is about as dirrrrrrty and great as anything we've come to expect Rusko to put out, Netsky's remake is a whole 'nother animal. An absolutely massive and arguably better track, his remix has a very special distinction. Rusko eventually produced an official video for "Everyday" and in honor of Netsky's mix, a remix of the official video done by director Rollz Royce was set to Netsky's track. The result? Psychedelic, hypnotic awesomeness.
Adventure Club Dubstep
This dubstep (duh) production duo hails from the capital city of the Great White North, Montreal. This might be speculation, but one has to wonder if their city of residence has any effect on their favored production style and musical choices. The group is certainly unique in their choice of material; a combination of populist pop songs with large crossover dance appeal mixed with mixes of tastemaker alternative and punk rock tracks. So in one breath they'll inhale with a treatment of Mike Posner's "Please Don't Go" and they'll exhale with a re-work of Temper Trap's "Love Lost". While the indie and alt rock songs might not seem like the most obvious material to work with, their tracks are linked by a singular dirtiness and grandiosity across all genres. Check out their take on Brand New's "Daisy" below and get goosebumps.
Brand New – Daisy (Adventure Club Dubstep Remix) by Adventure Club Dubstep
RAC
RAC (aka the Remix Artist Collective) is just that"a group of five talented minds that add up to a remixing sum greater than the contributing parts. According to their Web site, in addition to the DJ, media production and record production the group does, the RAC provides "re-interpretations/remixes of individual songs," which "strive for excellence and good taste regardless of genre… that strays from the 'club mix' archetype". The group has certainly found a receptive audience in the online blogger set, with hit mixes for indie heavyweights like Phoenix, Two Door Cinema Club and Anoraak among others (nearly all of them free for download of the group's home page). You can check out their mix for Edward Sharpe & The Magnetic Zero's "Home" below.
Edward Sharpe & The Magnetic Zeros – Home (RAC Mix) by RAC
Boys Noize
The German producer Boys Noize cut his teeth releasing his own singles from 2004 till the present day, and really came into his own on 2007's Oi Oi Oi. However, it's important to note that Alexander Ridha has also made a name for himself as a remixer of note. His remix discography might not be as deep as some of the other people we've mentioned here, but he's got a number of real winners in the work he's done so far. His remix of Feist's "My Moon My Man", which was feature on both his full length debut and the deluxe edition of Feist's hit The Reminder"is a stone cold classic. In addition to that, he's also done great work on tracks from Late of the Pier, Snoop Dogg, Cut Copy and director David Lynch (!). Check out one of Ridha's best remixes from last summer (or of all time, for that matter), his take on The Chemical Brother's "Swoon" below.