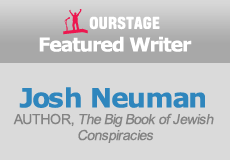 A funny thing happened on the way to the dive bar. Yes, the Black Lips, Vivian Girls, DJ Jonathan Toubin and others will be performing on the first-ever "Bruise Cruise Festival," a luxury line headed from Miami to the Bahamas from February 25-28, 2011. With rockers/patrons paying $615 for an interior cabin and $665 for one with an ocean-view, the cruise is a fascinating study in indie music marketing. No doubt digital realities have lent freedom to artists seeking new channels of distribution, but they have also somewhat paradoxically devalued their creative output. Generating less income through recordings, it has become all the more important for them to monetize live performances and the Bruise Cruise can easily be understood in this context.
Organized by Michelle Cable of Panache Booking and Jonas Stein of Nashville band, Turbo Fruits, the concept is hardly revolutionary: There is a "Opry Country Classics Cruise" on Royal Caribbean, a "Gospel Music, Mexican Riviera Celebration" on Holland America, so garage rock on the Carnival Line is not a gigantic leap. Yet, unlike other musical genres, garage hasn't historically occupied a cultural space one would readily associate with ice sculptures and elaborate floral arrangements and so the cruise suggests that the line between the alternative and mainstream is
growing increasingly blurry.
The 400 rockers who book tickets, as the Bruise Cruise website states, will share the ship with about 2000 regular passengers, which means that out-of-shape, Middle Americans in their fat pants will be piling fajitas and pasta salad onto their plates at the all-you-can-eat buffet next to the rockers in skinny jeans. The fest promoters seem aware of the cultural tension. On the site, next to a photo of the ship's resort-style swimming pool they urge potential fest-goers to "Think Boogie Nights" and next to a photo of a miniature golf course to "Think Caddyshack meets Weekend At Bernie's." In these awkward attempts at spin, the promoters seem to be worried whether this indie experiment at sea will work out.  But is there really reason for concern?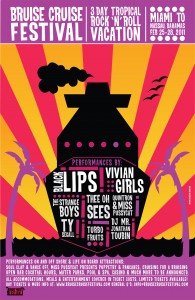 As Rachael Maddux announced in her much-discussed cover story for Paste Magazine earlier this year, "Indie" as an artistic ideal that implied a willful operation outside the mainstream, has virtually lost all meaning. And perhaps, it could be argued, so has the idea of "mainstream." In September, Iggy and the Stooges will be performing Raw Power at Kutsher"s Country Club in the Catskills. In October, indie institution Matador Records will celebrate its 21st anniversary with a three-day event in the mecca of kitch, Las Vegas. Hell, Arcade Fire just released an album called Suburbs about lawns, malls and the desire to settle down and have children. The world is ready for the Bruise Cruise. So, grab your PBR and head to the starboard deck. The shuffleboard tournament is about to begin.
Joshua Neuman used to be the editor-in-chief of Heeb Magazine. He has written for Slate, eMusic and ESPN. His first book, The Big Book of Jewish Conspiracies, was published by St. Martin's Press in 2005.