Jason Derülo's meteoric rise to the summit of pop stardom has been anything but simple luck. In the two years since the release of his debut single "Whatcha Say," Derülo has proved a tireless entertainer, writing over 150 songs for his sophomore album, touring with Lady Gaga and and enduring a seemingly endless array of press appearances. Lucky for us, he hasn't tired of all the attention yet. We caught up with Derülo to talk about his new album Future History, his writing process in the studio, and the answer to the burning question that all the ladies want to know.
OS: The title of your new album Future History also appears in a tattoo that you have. Which came first, the album title or the tattoo?
JD: The tattoo came first. I got it about two years ago. Future History represents where I came from and where I see myself going. I called my album Future History because it bridges the two.
OS: You've mentioned that you grew a lot between releasing your first album and recording Future History. What experiences specifically stick out as having the greatest impact on you?
JD: Falling in love, falling out of love, traveling the world, my cousin passing away and being away from my family are all some of the things that helped me grow over the past two years.
OS: What would you tell people to expect from the new album if this was their first time listening to Jason Derülo?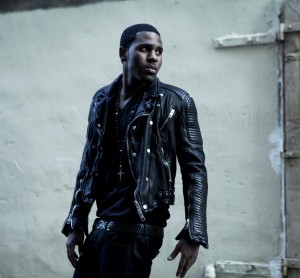 JD: I'm a music lover and I love all kinds of music, so in my songwriting you will get influences from a bunch of different genres. Music should be made with no limitations. To keep myself from limiting my material, I don't use a pen. I just go in the booth and sing whatever comes to my mind and heart.
OS: You've got a very strong musical theater background and even scored a gig in the Broadway production of Rent. If you could star in one musical theater production,which would it be?
JD: Ragtime.
OS: What's it like for somebody who's so passionate about songwriting to work with a team of producers who have different visions for your music?
JD: Collaborating is a lot of fun. I have a clear vision of who I am and what my music should sound like and what I want it to be. The people I work with help me bring that vision to life and take it to the next level. I've been blessed to work with some of the most talented people in the world.
OS: By now you're a certified sex symbol, so the ladies have got to know: what's your status?
JD: Single and ready to mingle.
OS: You've got a great sense of style, and in your videos you're always wearing fresh kicks or cool studded jackets. What's your favorite item in your wardrobe to wear?
JD: I like white t-shirts and high top sneakers.
Check out Jason Derülo's latest album Future History out now!
Recommended Posts: