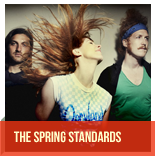 While tuning my UHF dial and fiddling with my foil-covered coat-hanger antenna, I came across the Conan show, which was featuring a pretty dazzling young band. Ok, it was on YouTube. Turns out this entrancing three-piece is called The Spring Standards. Their beautiful three-part harmonies, top songs, spacious, textured arrangements made the transition from the national talk-show circuit to our very own studio in Somerville, Mass, where the trio lined up on some stools, broke out the melodica and guitars, and put on a display that¦well, you'll just have to watch it to get it. We are thrilled to offer these videos to watch and songs to download for our latest Songs Of The Revolution session.
Be sure to check out the older SOTR sessions while you're there.

In 1776, the world changed forever when two forces"one, the most powerful army in the world, and the other, a roughshod militia with no formal training"faced each other across a quiet meadow in Lexington, MA.
Now, from that same corner of the world, OurStage is firing a new salvo. Songs of the Revolution is the product of our belief that music, when it finds the right ears, can change everything. So, like Paul Revere, we're bringing a message to the masses, swiftly and furiously arming our citizen warriors with a galvanizing soundtrack.
Your favorite bands touring in the Boston area will record a live session with OurStage producer and Community Manager Skot. One to three songs, one to three takes, live and unplugged. Watch videos of the sessions on YouTube, check out behind the scenes photos, and download the recordings for free.
Listen to and download sessions from Never Shout Never, Tim Blane, Lady Lamb the Beekeeper, You Am I, and The Hollow Sound now. Become a fan of Songs of the Revolution here on OurStage to get updates whenever a new session is added right on your OurStage newsfeed, or submit your email to receive updates straight to your inbox.
We bet Paul Revere wished he had an iPod for times like these.