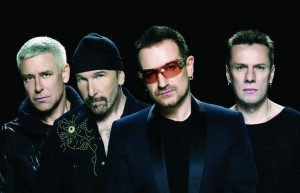 After a quiet three years, iconic rock band U2 have debuted a brand new song as part of the promotional push for an upcoming film about Nelson Mandela.
Released as the musical accompaniment to a new trailer for Mandela: Long Walk To Freedom, the new U2 song is as yet unnamed. The song is only available through the extended film preview, which you can stream on NME, but will later appear as part of the film's official soundtrack. No release date has been set for that collection.
This song is apparently only the tip of the iceberg as far as new material goes. U2 bassist Adam Clayton recently revealed that the band are aiming to finish a new album by the end of November. No word yet on a release or potential single, but it seems safe to assume a new album could hit shelves sometime in 2014. Will it be followed by a tour? Only time will tell.