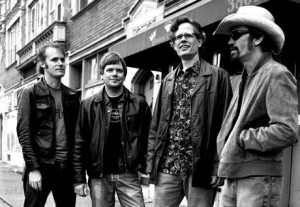 The long out-of-print first two albums from beloved rootsy rock underdogs The Bottle Rockets have finally been reissued, and with the deluxe treatment, no less.
On November 19th, Bloodshot Records released Bottle Rockets/The Brooklyn Side as a two-disc package, including a detailed 40-page booklet. Released in 1993 and 1995 respectively, these two records are crucial early planks in the bridge from The Replacements through Ryan Adams' Whiskeytown and to the now-established alt-country scene.
Not only do the records hold up to their countless progeny, they sound even more vital than many of today's roots rock releases. The albums' straight-ahead, raw and roomy production (enhanced by a fine remastering job) has nothing in common with the budget indie sound that dates so many of their contemporaries and, along with the top-notch songwriting and fearless performances, makes for an exciting listen.
We had a quick Q&A with Bottle Rockets drummer Mark Ortmann to see what he thought accounted for the great sound on these records, as well as his thoughts on touring, playing with Marshall Crenshaw, and bands on other planets.
SJ: I had never heard these two early records, and being a fan of lots of independent releases from the early '90s, I can't believe how vibrant these sound in contrast, with a really high production value. That can't just be the remaster, right? To what or whom do you attribute the sound of the recordings?
Mark: John Keane produced, recorded and engineered the debut album Bottle Rockets, whereas The Brooklyn Side was produced by Eric Ambel and recorded by Albert Caiati. Although the remastering did put a new polish on those albums, it's John, Eric and Albert who are responsible for the vibrant quality of the original recordings. The common approach they took was to record a faithful representation of the band while avoiding the audio fads/trends of the times (gated drums, digital effects, etc.) There is more production on The Brooklyn Side because there was more studio time to work with by the second album, but neither album sounds dated due to the recording methods used.
(more…)