It's difficult to believe that the latest recording by The Roys, New Day Dawning, is only the siblings' sophomore effort for Rural Rhythm Records.
The brother and sister who embraced bluegrass as elementary school children in New England have such a solid, signature sound " in the style of their idols including Bill Monroe and Ricky Skaggs " that it feels as if they have always been part of the bluegrass community. Perhaps that's because the music of the reigning Inspirational Country Music Bluegrass Artists of the Year is a true staple on radio, in concerts, and during high-profile events including the PBS television special Pa's Fiddle and on such television shows as Fox & Friends.
Now Elaine and Lee Roy are again candidates for nominations in ICM award categories " this time for Entertainers of the Year, Vocal Duo, and Inspirational Bluegrass Artist. As if that isn't enough, the duo are ready to release their next recording this month. Elaine Roy took time out of her hectic schedule to chat about the duo's music, album, and fans.
OS: New Day Dawning is a great title for your album. How did you come up with that title?
ER: I don't even know who came up with the idea. We started talking and somebody said "New Day Dawning" and we wanted to write it as a song. There's such negativity in the world so when it came time to name the album we thought it was the perfect title of the album.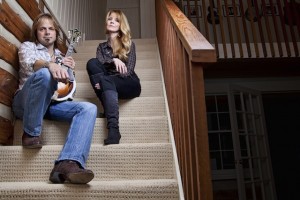 OS: Well, I have to ask if it also signifies a new day or turning point for The Roys.
ER: We hope it's a turning point! We've struggled long and hard to get where we are today. We are really grateful for all that has happened to us and we look forward to a new day dawning and great things ahead.
OS: Now this recording isn't a full album. Why is that?
ER: Right, it's seven tracks. I think for us it was trying to turn out more music quicker for the fans. When you record a complete album, that's a very long process. We just wanted to get music out there for our fans.