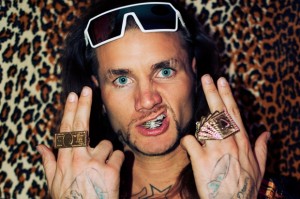 The man who inspired James Franco's character in Spring Breakers is back on the music scene with a brand new video.
Riff Raff has been cutting his teeth on the underground hip-hop scene for the last few years. Many claim his looks, a white boy with ridiculous dreads and masterfully cut facial hair, have a lot to do with his success thus far. I cannot say whether or not that is true, but I do know his new video for "Mr. Popular" is all kinds of absurd.
Opening with shots of Riff Raff hanging out alone on a couch and later playing basketball alone in a smokey room, "Mr. Popular" plays like a low budget attempt at larger-than-life appeal. Riff Raff has garnered a lot of attention in 2013, and now he feels that popularity should translate to success in the hip-hop game. You can watch the video and decide whether or not that should in fact be the case after the jump.
Riff Raff has always been a singles and mixtures guy over someone who talks about creating an album. We're not sure when, but sometime this fall he'll have a new release and we'll be right here reporting on it. Stay tuned. (more…)
We are all connected. Our generation's need for information has bred a certain hyper awareness, an insatiable desire for instant information coupled with a distaste for gatekeepers. The mindset of today's youth is something along the lines of, "Get out of my way, geezer. I'm doing 80 in the fast lane of the information superhighway."
Do people still call it the information superhighway?
News of album announcements come by way of Google+ Hangouts. Twitter has replaced wire services as the means by which artists relay information to their fans and to the media. After all, who better to promote you than you? And Instagram functions in much the same way. The service has gone from hipster novelty to smart phone ubiquity. It has been adopted by celebrities, musicians, even Iran's Ayatollah Khamenei. But who should you be following on Instagram? Well fear not, dear reader! We know the best accounts to follow.