Robbie Williams exposed himself on stage last week"sound familiar? That's probably because he ripped his pants on stage the week before. Accidentally, of course, on both counts. The first time he opted to just take his pants off completely after they ripped, which you might call rolling with the punches, but the second time "he didn't seem in a hurry to put it away" either. If you expected some big negative backlash about this, though, don't hold your breath. Nip slips may be a cause for embarrassment for female musicians, but that standard doesn't quite translate for men. Case in point: in regards to Robbie William's slip, one female fan told the Daily Star "[I]t was well worth the ticket price. I'm one of the luckiest women alive to have seen that." We don't really agree with that particular fan, but let's look back at some other classic examples voluntary male nudity.
What better place to start than Jim Morrison's famous Miami performance in 1969? For those not familiar, Morrison allegedly pulled our his junk and whirled it around on stage during this rowdy Southern show. Given the time period and location, he was actually fined and sentenced to jail time. Worse still, The Doors were shunned by promoters and played only one more show before Morrison died in '71 (RIP). That said, it didn't phase his fan base"to this day he's still considered one of the most awesome and influential rock stars of the '60s.
Now jump forward to the 1983. The Red Hot Chili Peppers start their tradition of wearing nothing but tube socks on stage. Not a wardrobe malfunction, per se, but the image became an iconic poster and even an album cover for the band. Needless to say, it was pretty popular with the ladies.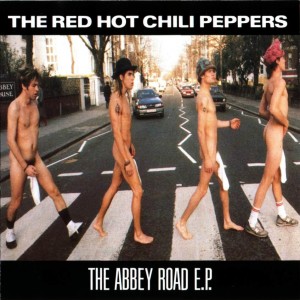 And let's not forget about Rage Against The Machine's nude protest in '93. In lieu of playing a set at Lollapalooza, they took a stand against censorship and stood on-stage in their birthday suits with duct tape on their mouths for fifteen minutes. When asked what was going through his mind at the time, band member Tim Commerford responded "[Want me to be perfectly frank with you? The size of my penis"that's what was going through my mind in Philadelphia. It looked like I'd just stepped out of the ocean. I swear to god, it's bigger than that." They did play a free show later, though, to appease the disappointed fans.
Last but not least, let's credit Axle Whitehead with the most tasteless lapse of judgment of the bunch. For those not familiar with Whitehead, he was a contestant on the first series of Australian Idol and later hosted the show Video Hits. Until the "incident," at least. At the 2006 ARIA awards, he whipped it out and "simulated masturbation" on the award that he was presenting in front of 10,000 people. Luckily the grim scene didn't make it to television, but he did lose his job over the incident. If that seems harsh to you, don't fret: "I have absolutely no regrets"I think more people should do it," a satisfied Whitehead reported.
"To each his own," we say.