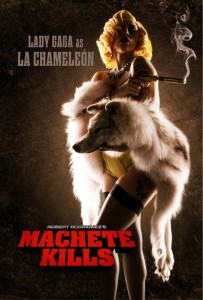 Lady Gaga has conquered the pop landscape a few times over, but will she be able to take over the silver screen?
It has just been revealed that Gaga will have her film acting debut in Machete Kills, the new feature film from director Robert Rodriguez. Details are sparse about Gaga's role in the film. The little that we do know is based off a few choice tweets from Gaga and Rodriguez. According to this movie poster linked to byRodriguez through his Twitter, Gaga will be playing none other then La Chameleon. Which… doesn't really tell us much. No doubt that the movie will try to capitalize on Gaga's penchant for transformation and dramatic flair. Though to be honest, the blonde wig and animal furs of La Chameleon are a pretty toned down compared to some of Gaga's more infamous fashion statements.
Gaga will be starring alongside an eclectic cast. Machete Kills will feature returning actors from the first Machete film including Danny Trejo, Jessica Alba, Michelle Rodriguez, and Lindsay Lohan. The movie will also feature some hot stars fresh to the series such as Sophia Vergara, Amber Heard, and Vanessa Hudgens. Oh yeah, and Charlie Sheen will be playing the president of the United States.
Get your popcorn ready, it's gonna be a shlockfest.
More like this: