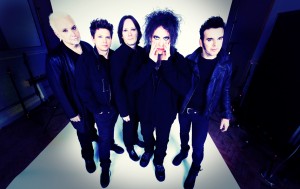 I can't even believe I'm about to write this, but The Cure are making an incredible comeback this year, and I couldn't be more excited. The band will release their 14th studio album, tentatively titled 4:14 Scream late this year, embark on a world tour which will see the band perform three albums in full, and release a few live DVDs for good measure. Among the albums performed on their world tour will be 1984's The Top, 1985's The Head on the Door, and 1987's Kiss Me, Kiss Me, Kiss Me. Though an album release date and tour dates have yet to be announced, the band will be playing the Teenage Cancer Trust benefit concerts at London's Royal Albert Hall on March 28 and 29.
More like this:
Soundtrax: Songs For Early Winter
Sound and Vision: Pop's Greatest Gender Benders " Songs That Sound Better Sung By the Opposite Sex
That Song's About Sex?!

One of the best releases of 2012 to date is Boys Don't Cry, an album of covers recorded by Anglo-Pakistani singer-songwriter Rumer (nee Sarah Joyce). As a vocalist, Rumer is soothing and smooth, strictly middle-of-the-road enough to earn her an invitation from U.S. President Barack Obama to perform at the White House in May, the month her album came out " but that's not to say she doesn't have a slightly subversive streak.
After all, who chooses to release a collection of remakes for their second full-length studio album. (Rumer's 2010 debut, Seasons of My Soul, earned her widespread acclaim, two Brit Award nominations, and a platinum certification in the U.K.)
Then there is the theme of Boys Don't Cry (whose title was not inspired by The Cure song, which is not among the album tracks): Everything on it was written and performed by male artists in the '70s. Somehow Rumer makes quintessentially guy songs like Ronnie Lane's "Just for a Moment" (about an instant of clarity in a drunken haze) and Neil Young's "A Man Needs a Maid" (title: self-explanatory) sound strong enough for a man but made for a woman.