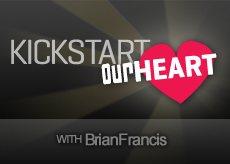 Four years ago, a rockabilly legend from the '50s passed away in Durham, North Carolina. Her name was Janis Martin, but you might know her better as "The Female Elvis""a nickname she earned, with the approval of her RCA label mate Elvis Presley, for her onstage dance moves. Just months before she died, however, she recorded an album with the help of close friend and past collaborator Rosie Flores. Flores, after unsuccessfully shopping the record around to a handful of labels, is now trying to raise the $15,000 needed to mix and master the record using Kickstarter.
Although hardly a household name in this day and age, Martin was a teenage star half a century ago. Her first record, "Will You Willyum," was released in 1956 when she was only fifteen years old. Not a bad first release either: it popped into the Billboard Top 10 and sold around 750,000 copies. That's an impressive number for the '50s, especially if you consider how much the rock 'n' roll scene was dominated by men. After the release of "Will You Willyum," Martin was voted Billboard's "Most Promising Female Vocalist" and toured with the likes of Johnny Cash and Hank Snow. Although her career was hindered by her gender and, eventually, a teenage pregnancy, she's still considered the most important female artist in '50s rock 'n' roll and rockabilly along with Wanda Jackson and Brenda Lee. Like Elvis, she wasn't afraid to mold country music with the relatively new rhythm and blues.
Janis Martin and Rosie Flores became close when Martin agreed to sing on Flores' Rockabilly Filly album in 1995. While this was a dream come true for Flores, it was also big deal for Martin; it was her first return to the studio after a thirty year hiatus. In 2007, after some convincing, she agreed to record something new with Flores and a few other musicians. They selected ten new tracks to work with, and it was Martin's dying wish to have the recordings released. We think it's important to follow through with the project "for her sake as well as posterity's. As Flores puts it, "Your pledge has the power to keep Janis Martin's legacy alive. We hope that sooner than later, you and all of Janis Martin's thousands of fans can finally own a copy of her very last studio sessions. My wish is to pay tribute to a real cool lady who never stopped rockin' and rollin' until the end." If you agree with that sentiment, check out the Kickstarter page and make a donation.