It's always nice to see quality music being made by the offspring of our beloved stars and cultural icons. Most often, we wish the celebrity kids would just go away, taking their vanity projects with them. But the people on this list have shown integrity and originality in a business where that is a challenge for many would-be artists, and they handle with composure the additional burden of being compared to their famous parents. Two Beatles kids made the list, but hey, there could have been more (sorry Julian Lennon, James McCartney, and especially Dhani Harrison, who I wanted to include just cause he seems cool).
7. Ziggy Marley
Ziggy Marley is everything you might want from the son of Bob Marley. He fronted his family band, The Melody Makers, and then struck out on his own with some solid solo records, continued his father's Tuff Gong record label (forming Tuff Gong Worldwide, technically a different label), founded a charity and launched a comic book, Marijuana Man. You might think a guy like Ziggy would go against the beaten path, but when OurStage talked with him recently, he was most engaged when asked about the comic and reefer in general.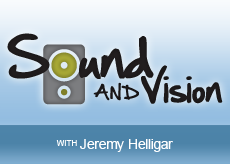 For many an aspiring singer, having the right last name can provide a considerable career boost. Though the pop flames of many celebrity offspring and siblings burn out after a handful of hits, if that many (poor
Julian Lennon, Jakob Dylan, Lisa-Marie Presley, Wilson Phillips, Nelson, Lalah Hathaway, Louise Mandrell, Stella Parton
and
Ashlee Simpson
), a precious few have managed to sustain significant music careers. (
Natalie Cole
and
Liza Minnelli
come immediately to mind, as do
Rosanne Cash, Pam Tillis
and
Nancy Sinatra
.) Meanwhile,
Sean Ono Lennon
has never troubled himself with the pursuit of mainstream success, and the jury is still out on
Miley Cyrus
and
Will
and
Jada Pinkett Smith
's brood.
Francis Bean Cobain, your move.
While we're waiting for the daughter of Kurt Cobain and Courtney Love to claim what would seem to be her birthright, we've got plenty of big names from musical families to entertain us"though many fans might not even realize their impressive lineages. Family value may have given these performers opportunities early on, but in the end, like Nancy Sinatra's dad, they did it their way"not because of their surnames. Yes, nepotism is alive and well in pop"and it probably will continue to be"but these brothers and sisters (and sons and daughters) are doing it, for the most part, for better and worse, for themselves.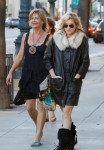 Ke$ha
The woman who is responsible for some of the trendiest pop hits this side of Katy Perry's breasts is actually a little bit country. Seriously. Though I wouldn't expect her to break out into yodeling mid-song, in-between swigs of Jack, I also never say never. Her mom Pebe Sebert cowrote "Old Flames Can't Hold a Candle To You," which was  No. 1 country hit for Dolly Parton in 1980. I once interviewed Parton, and when I told her that "Old Flames" was one of my favorite of her songs growing up, she feigned indignation and snapped, "Oh, and it just happens to be one I didn't write!" So not only is Ke$ha responsible for throwing "Tik Tok" on an unsuspecting world, but thanks to her mom, I incited the ire of Dolly.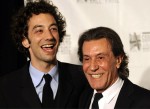 Albert Hammond Jr.
I didn't think it was possible, but the dad and namesake of the Strokes guitarist might be even cooler than his little boy" if you happen to be a fan of '70s and '80s soft-rock. I saw an infomercial for his most recent album, Legend, on Australian TV recently, and I was shocked by all of the major hits the singer and producer has written (from his own "It Never Rains in Southern California" and the Hollies' "The Air That I Breathe" to Willie Nelson and Julio Iglesias's "To All the Girls I've Loved Before" and Starship's "Nothing's Gonna Stop Us Now"). His most recent high-profile production: Endlessly, the sophomore album by Welsh singer Duffy, who, contrary to popular belief, is not the daughter of Shakin' Stevens.
Why don't the Glee kids give more props to country music? After all, one of their very own, Overstreet, the blond-haired, pout-lipped actor who plays the blond-haired, pout-lipped Sam Evans, is directly descended from Paul Overstreet, one of the biggest country stars of the late '80s and early '90s, with nine straight Top 10 hits, including two No. 1s. Though the cast of Glee have yet to make it to Billboard's country singles chart, Overstreet the elder must be proud that over on the Hot 100, his Nashville-born son is part of the act that's now had more hits than Elvis.
Speaking of country, Lady Antebellum has two members who are part of the family business. Hillary Scott's mom, Linda Davis, had a No. 1 GRAMMY-winning hit duet with Reba McEntire in 1993 called "Does He Love You." Charles Kelly's big brother Josh is a singer-songwriter who's married to former Grey's Anatomy star and current rom-com regular Katherine Heigl. Thanksgiving dinner at the Kelley's house must be some star-studded affair. I wonder if there's a red carpet leading to the turkey?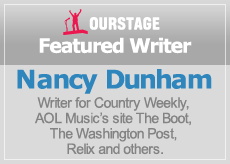 The recent Americana Music Awards in Nashville may be over, but Grace Potter's still savoring her memories of the event.Besides mingling with such country, bluegrass and Americana heavyweights as Rosanne Cash, The Avett Brothers, the Courtyard Hounds, and John Mellencamp, Potter had the chance to chat with Robert Plant, who has embraced Americana despite his long rock legacy.
"It was so awesome. My life was changed forever," said Potter. "Not only did I meet Robert Plant, but he knew who I was. I was completely bowled over¦.Normally I wouldn't brag about that but in the whole world, he is my model. He's graceful, serene and all about being the bad boy, too."
The smart money bets that Potter will have plenty more household name artists seek her out in the coming months. Ever since Grace Potter & the Nocturnals burst onto the scene in 2007 after signing with Hollywood Records, they've caused a ruckus among music lovers.
Now that she's done a duet with Kenny Chesney on the song "Hemingway's Whiskey," the title track of Chesney's new album that was released September 28th, the buzz is louder than ever.
"It still feels really fresh to me," said Potter of the song and her excitement at his request for her to join him in song. "When [Kenny] emailed and asked me to join him, I couldn't stop thinking of [his] song 'She Thinks my Tractor is Sexy.'"
Although she knew of Chesney's talent, Potter said she was wasn't prepared for the beauty of "Hemingway's Whiskey."
"It was stripped down and beautiful," she said. "[I especially loved] the really nice, subtle drums. I thought the song was just magic as it was¦.[For the full version] they didn't want it too fancy or over produced or polished. I felt it was the perfect song for me to be a part of and it was a bit of a departure for Kenny, something his voice fits perfectly into¦.He's such an amazing vocalist."
Although her goal is to tour with Chesney, for right now Potter is focused on her own tours and promoting the band's self-titled album that was released in June. The Vermont-based group's new line up has made it more hard-charging and working with producer Mark Batson has finally propelled Grace Potter & the Nocturnals into a musical space they've always wanted to inhabit.
"This is just what I always wanted," said Potter of the sound. "This album was almost 10 years in the making and it's exciting to absorb it¦.The band is my focal point right now."
And it's on fire, with players grabbing sounds from each other and advancing them in certain ways, which gives the music elasticity. That's why the music might take on more of a country vibe at a Nashville concert but add dollops of soul when they take a Memphis stage.
"We are very much a chameleon band," said Potter. "I celebrate that we have this gray area. Our show has changed to [not just incorporate more] country but bringing around sexy style too. I'm not afraid to shake it and dance on stage."
Grace Potter & the Nocturnals are on tour. For a complete list of dates and cities, check here.
By Nancy Dunham
Nancy Dunham writes about music for Country Weekly, AOL Music's site The Boot, The Washington Post, Relix and other publications.
Check out Grace Potter and the Nocturnals' new video for Paris (Ooh La La) below, and see vintage Grace in a video interview on OurStage from 2008.