Among Sunday night's many Europe Music Awards performances, The Killers rose to the spotlight with their latest hit, Runaways. The night was nothing short of spectacular, with each performer bringing unique spectacles to the stage.
So how did The Killers stack up? Between the band's impressive lightshow, and on-point playing, I'd say they were more than holding their own.
Check out their performance right here, and let us know your thoughts in the comments!
If you like The Killers, check out OurStage artist The Brilliance.
More like this:
Twitter has become a breeding ground for self-absorbed celebrities. They can tweet about anything that happens to cross their minds, and hundreds of thousands of followers will read it"regardless if anyone really cares. Whether insightful or inane, some celebrities can't be limited to just 140 characters. And some fans want more that just the occasional SMS update. For example, diehard Kanye West fans are often wondering "What is Kanye eating for breakfast today? He must eat like a champion!" and "What's Kanye's exercise routine like? I really need to do some work on my abs."
Well, fear not Kanye fans! Ad agency GlobalHue has just announced a new service called Voyr, where fans will be able to pay a monthly fee to get a behind-the-scenes subscription to their favorite celebrities. And who's the first celebrity who agreed to get involved in Voyr? You guessed it, Mr. West. That's right, for $4.99 a month, you can get access to webcasts of the Watch The Throne tour, videos of his exercise routine, what he's eating"and instructional video on how to make it from his personal chef, videos of concert rehearsals, an animated series called Runaway, a documentary about Kanye appropriately titled Me and much more.
Yes, you read that correctly. For five dollars a month, you can have the privilege of watching Kanye West do mundane tasks like working out and eating food. Now, if you've heard Kanye's latest on-stage rant, you know that all Kanye wants to do is be loved by the people. And a lot of people do love you, Kanye. But we love you for the great music you make, not for the ridiculous rants, award show interruptions and ego-maniacal moves like this. These are the kinds of things that make people think you are an antihero. No one wants to pay money to see you go to the gym, take a nap and then eat a 100 dollar steak. Or maybe they do? With other big name celebrities like Oprah and Elton John being rumored to partner with Voyr, maybe the market for virtual celebrity stalking is growing. Considering all the bodyguards and security you see celebrities with today, the whole concept seems a little strange. Most celebrities are trying to avoid paparazzi and adoring fans when they go out in public, so inviting total strangers to watch what you're doing everyday doesn't really make sense. Don't they want to keep their personal life private and separate from their work? I guess some people want to make themselves into a brand rather than an artist. Voyr doesn't launch until September 15th, so we'll have to wait until then to see how it all plays out.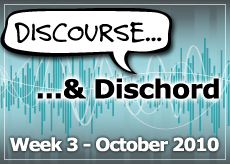 The Good
Gordon Pinsent reads excerpts from Justin Bieber memoir
Get your LOLs right here, folks. First up, a memoir written by a 16-year-old. Ha! And, it's entitled First Step 2 Forever.  The laughs don't end there. Here's a video of the esteemed actor Gordon Pinsent doing a dramatic reading of Justin Bieber's riveting tome. Enjoy"we did.
Alicia Keys gives birth to Egypt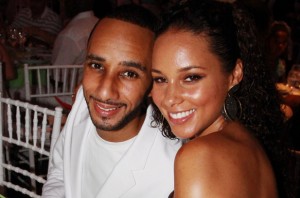 Not the country! That would be sooo 3150 BC. Alicia Keys and husband Swizz Beatz (born Kasseem Dean) welcomed a baby boy this week named Egypt Dauode Dean. May he grow up to become a very successful pharaoh.
The Bad
Glastonbury Festival shelved for 2012 due to toilet shortage
We wouldn't wish more port-a-potties on anyone, but this does give us pause. England's Glastonbury Festival has been canceled for 2012 due to the Olympics taking place in London that same year ¦ and the ensuing toilet shortage. Athletes are such loo-sers.
Kanye's album cover art banned? He wishes.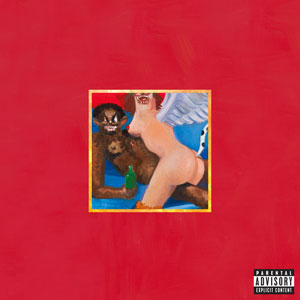 Kanye West is a legend in his own mind. But he may also be a victim in his own mind as well. The rapper griped on his Twitter page that Wal-mart had censored the cover art for his upcoming album, My Beautiful Dark Twisted Fantasy. Tweeted the rapper: So Nirvana can have a naked human being on they [sic] cover but I can't have a PAINTING of a monster with no arms and a polka dot tail and wings. Oh the injustice! Is it too much to ask for a man to be left in peace with his armless polka dot monster? IS SOCIETY SO INTOLERANT"what's that? Wal-mart didn't censor the cover? Oh. Uh, never mind. As you were.
The Ugly
Cantankerous singer pegs bottle at Mumford and Sons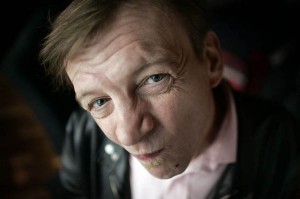 Mark E. Smith of the band The Falls was getting ready for his set at a Dublin music festival when a terrible caterwauling struck his ears. Next door, the hugely successful English folk band, Mumford and Sons, was warming up. I just thought they were a load of retarded Irish folk singers, Smith explains. So, understandably, he threw a bottle at them to encourage them to silence their plaintive yawping. The bottle fell short of its target and Mumford and Sons went on to sell one trillion records.
Miscellany