California's Local Natives have slowly but surely strummed, drummed and sung their way to the top of critics' and general listeners' It list. The outfit of five, comprising Taylor Rice (lead vocals, guitar), Kelcey Ayer (vocals, keyboards, percussion, guitar), Ryan Hahn (guitar, keyboards, mandolin, vocals), Andy Hamm (bass, backing vocals) and Matt Frazier (drums) officially formed five years ago, with the innocent intention of following their hearts by making meaningful music. Says Ayer, We didn't have a lot of money; we had a passion.
From the lyrical content to the instrumental arrangements, the exhilarating live delivery to the pristinely produced disc, the quintet has succeeded in amassing both a cult and commercial following. Of their rise from at one time attracting a sum of five show-goers to performing nine sold-out sets at SXSW (not to mention roughly 200 other shows over the course of the past year-and-a-half), Ayer admits, It's pretty incredible. I don't think there's any other word to describe it. He humbly elaborates; It's those [small] shows that make [bigger] shows so much more special. The process wasn't simple, he explains. It didn't happen overnight. We earned it. This band has always been about longevity. I think that will help us in the long run.
Performing in Manhattan last week at a Ray Ban-sponsored SPIN showcase for CMJ, Local Natives took the stage close to 11:45 and played until 12:30. Before emerging, the longtime friends gathered backstage in a huddle, a more modest and adorable assembly of the classic football pre-play rally. Speaking of the specific show, which took place at Lafayette Street's Firehouse, Rice shares, Our live performance is a lot more energetic; has raw energy to it. At a small party vibe venue, like this, it'll come off a lot more that way. 'Tis true. They tore into their album, proving their rock star status by playing their hearts out. There was no lack of enthusiasm for these limelight pros. Rice commanded the mic, but a great deal of their appeal has to do with their powerful harmonies, which were in full force. Ayer took the lead on Airplanes, given the fact that he wrote it about his father's father, whom he never met. All members were impressive, but Ayer takes the cake, earning major cred when balancing both keyboard and percussion simultaneously. Right hand plucks keys as left hand soars over other to tap his solitary drum. Pat head, rub belly much? Wow. And to think, this guy used to be, as he confessed, A server at a California Pizza Kitchen.
Rice, who before becoming LN's lead sold products door-to-door (I was hawking really expensive kitchen cutlery to housewives in Orange County), says he enjoys intimate engagements as well as massive festivals; There's a different type of connection when it's a mass of people versus a sweaty club packed to the gills. I like the fact that we get to mix it up. Local Natives wound down the evening with the amped anthem Sun Hands, a pulsating song that manages somehow to channel the precise clip-clop pattern a horse makes when galloping. This thanks to Frazier, whose severe focus is evident when staring, mouth agape, from stage right. And he seemed so unassuming! Color me floored by their collective and unflinching gifts.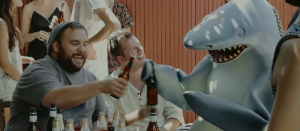 Perhaps the most recently buzzed about Local Natives venture is their music video for Wide Eyes, a soaring and somber number with so much more lurking beneath its surface. Much akin to the antagonist co-starring in said mini-narrative: a shark, who stalks a suburban man, flaunting his fins everywhere the increasingly insecure individual goes. Undoubtedly this cinematic decision aroused some questions about the band. Maybe they've an underlying desire to feature their twinkling track on Shark Week? Hahn fills in the blanks matter-of-factly; I've got a fear of sharks. They always make fun of me. So why go viral with a phobia? I had the idea for the video a long time ago. Many of our ideas were way out of budget. It was a play on my ridiculous fear of sharks, he laughs.
So, what's next for this party of five? After enough bus travel time to make you hate highways, the boys are stoked to get back in the studio. That is, after writing the entire record, a shared responsibility. Of the experience, Frazier says, We've learned so much. He hints at the sophomore follow-up: The bits and pieces of songs we have so far are really promising. Ayer adds, Everyone's excited to jump into it next year. Next year can't come soon enough for fans, including this chick. But, for now, I'll keep my impatient chin up; they're returning to the Big Apple this Friday to blow away Webster Hall.
By Nell Alk
Nell Alk is a culture and entertainment reporter based in New York. Her work has appeared in Paper Magazine, InterviewMagazine.com, Zink Magazine and BlackBookMag.com, among others. She also contributes to NBC's Niteside blog.