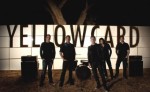 Sad news out of the Yellowcard camp today, as fans around the world are waking up to the news frontman Ryan Key is currently suffering from a hemorrhaged vocal chord.
Key broke the news himself late last night via Twitter. In a series of messages, Key wrote:
"Tried to do some recording today. Turns out singing through all the illness on the last tour caused my vocal chord to hemorrhage and swell. So it's vocal rest for me for a while. Dr's orders. So bummed. Could be worse though. He says its healing, just needs some time off."
Yellowcard recently began working on a follow up to 2012′ Southern Air. Click below to enjoy one of the album's bigger singles. (more…)

Releasing three albums in just 18 months sounds like an exhausting endeavor, but you wouldn't know it from the looks of Yellowcard at their recent Vans Warped Tour dates. The band is as full of energy as they were back during the early 2000s, and are gearing up for the release of their newest studio album Southern Air. We sat down with guitarist Ryan Mendez at their Mansfield, Mass. Warped Tour stop to talk about his early days on the tour, the writing process for the new record, and the album's one big guest appearance that didn't make the final cut.
OS: It's the band's 5th time on Warped Tour.  What's different this time around?
RM: Well, I did the tour in '02 and '04 with my old band when we were traveling in a van, and it was just the most bottom-of-the-barrel experience of paying your dues on Warped Tour. Now, with us being at the level that we're at, and me being a part of Yellowcard, it couldn't be any more different for me. We did about half of the tour in '07, and that was awesome too, but we were in kind of a tough time as a band then, and we were having issues with our bass player, who ended up leaving the band later in the year. It was just not the right mental page for us to be on, but now everybody's doing great, we've got a new record coming out, and the tour has been awesome. Warped just treats us so well, and we've been having a great time.
OS: Yeah, the reception at your show today was awesome
RM: I think it was probably the best show of the tour for us. Before that, I think Chicago was the best show, but this might have taken it's place!

When a band takes a break from their musical career for a number of years, it's often hard to gain back momentum and success should they decide to come back. But, there are some artists who never really go away; we're always waiting for them to stage a comeback. This year we've seen the return of huge acts like Blink-182 and New Kids On The Block, but this concept doesn't always have to apply to mainstream artists. Here at Live Wired, we caught Yellowcard on their first US headlining tour in three years as they played to a sold out crowd at Paradise Rock Club on the night before Halloween.
Yellowcard broke out with the release of their 2003 single (and album), "Ocean Avenue", and released two more albums before announcing that they were going on a hiatus in 2008. Earlier this year, they released When You're Through Thinking, Say Yes, started playing shows again, and embarked on their first headlining tour after regrouping. Not only was it amazing to see the crowd's excitement and explosive roar as the band took the stage, but it was both heart-warming and refreshing to see how humbled and taken aback the band was by this reaction. Frontman Ryan Key started off by telling the audience that the main goal for the night was for us to lose our voices from singing so loud; he definitely succeeded. While their music has grown from the sometimes angst-filled pop-punk to more of a straight rock sound, all of their songs are perfect when it comes to crowd participation. "Way Away" was the perfect example of this, as fans rocked out to the fast-paced guitar and violin sounds but had the opportunity to sing their hearts out during the bridge of the song.