Let's face it, sometimes the past should stay dead. But when an awesome artist fades from popularity,  fans later wonder, Where are they now?  You may not know it, but many artists you've loved in the past are still hard at work writing new albums or preparing to tour again. Fortunately, you now have Second Coming to reintroduce some of your favorite acts of the last few decades and give you the scoop on what you can expect from them in the future.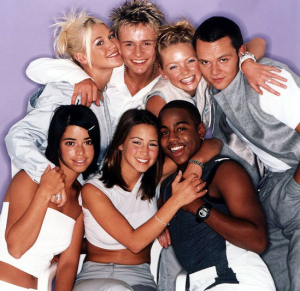 THEN: We've talked about O-Town and Backstreet Boys, but there's another '90s pop group that ruled not only our portable CD players, but also our television sets. England's S Club 7, a group comprised of four chicks (Rachel Stevens, Tina Barrett, Jo O'Meara and Hannah Spearritt) and three dudes (Jon Lee, Paul Cattermole and Bradley McIntosh) made a splash on the pop scene in 1998 with their hit TV series S Club 7 in Miami. In the sitcom, these bright and cheery Brits sang and danced their way around their new city with tunes as sunny as Miami itself. At the end of the century, the group released "Bring It All Back" as their first single, and the track achieved Platinum status. What followed was S Club 7 mania: their own magazine, singing dolls, made-for-TV movies and more. As the years went on, the group became drained by the constant traveling and multiple projects. When Paul Cattermole left S Club in 2002, the band found that they were not able to successfully continue in his absence. In April 2003, the band announced their split on-stage, much to the disappoint of fans worldwide.
S Club 7 is ready for a comeback. Among the plans for the pop group are a summer tour, a new album and the possibility of a Greatest Hits album. Members Hannah Spearritt, Paul Cattermole, Rachel Stevens, Jon Lee, Tina Barrett, Jo O'Meara and Bradley McIntosh have already reportedly signed a seven-figure deal to begin their tour across the U.K., which also coincides with such events as the Olympics and Queen Elizabeth II's Diamond Jubilee.
The group, who rose to fame in 1999 with their television series Miami 7, split up in 2003 to pursue their own careers. Despite many rumors of them reuniting in the past, it seems that this could be the real deal. Let's just say that for old fans, this news is a "dream come true."