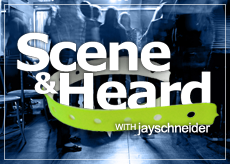 The first thing most people think of when they hear Washington, DC isn't usually music. Think stone monuments, war memorials and politics. No one would expect anything else from our nation's capital. Of course, sometimes people forget that DC is a major metropolitan area. And, with a large population and a urban environment comes a vibrant music scene.
In the case of Washington, DC,  its music history is almost as old and diverse as its politics. Fittingly, one of the first famous musicians hailing from DC was John Phillip Sousa. He founded the Marine Corps band and even wrote some of the most famous military/patriotic marches of all time. The scene has impressive roots in the jazz/blues department thanks to artists like Duke Ellington, Jelly Roll Morton and Bo Diddley. DC also puts itself on the map in the soul genre with famous artists like Marvin Gaye and Roberta Flack. Hardcore punk legends Minor Threat also hail from DC. But DC's most recent claim to fame is go-go music, which is a characteristic brand of dance/hip hop music.
Naturally, it's important to mention a scene's classical roots. DC contains three of the most famous US orchestras: The Washington Symphony Orchestra, the Washington National Opera and the National Symphony Orchestra. The symphonies play at the historic Kennedy Center where they feature standard repertoire and new works every weekend. The Kennedy Center also features many multi-purpose spaces for pop/rock acts in addition to the more classical/modern performances.  Over the summer, you can catch the NSO performing at Wolf Trap for their thematic concert series.
Moving on to nightlife, DC has a handful of notable rock clubs. My two recommendations for a nightly stop are The Red & The Black Bar and Rock & Roll Hotel. These places offer nightly entertainment from typical bar fair (like trivia and cover bands), to all-out weekend productions with some of DC's finest new original rock acts.
Of course, DC has much more to offer than just standard rock clubs. I caught up with OurStage hip hop/funk band Mambo Sauce to see what they thought about the vibe of DC. The band combines full instrumentation, gritty distorted guitars, impeccable emcee flow and powerful female R&B vocals all in one versatile package. Their sound, landing somewhere between The Roots and Black Eyed Peas, is aptly accompanied by the name Mambo Sauce"a clear reference to the complex flavor of the fried chicken dipping sauce made famous in the DC area.  The band told me, "The music scene is really picking up compared to the years of the past¦[It] used to be dominated by go-go music but as of late, the cit has really been embracing variety. This embracement, however hasn't changed the fact that DC can be a tough scene to break into, as is the case with many of the major markets we've looked at. Mambo Sauce refers to the audiences' tendency to be critical of live acts as them being stuck in the cool zone. However, much like any major city though, if you bring your best, the crowd will respond.
Mambo Sauce frequents many DC venues including the State Theatre, 930 Club and The Santa Fe Café. They recommend any of these venues to a touring band or an eager visitor of the DC area. With such an impressive list of accolades, the band is certainly a DC music authority. They're song Welcome to DC has had a plethora of placements including being in the rotation for MTV, VH1 and BET, being used for Washington Wizards Commercials, Comcast Redskin's highlight reels and BET 2009 Hip Hop Honors awards.
It's only fitting that on July 18
th
, Mambo Sauce played a show with Quest Love of the Roots at the famous Kennedy Center in DC.
Check out
their OS profile to hear their music and get the true Mambo Sauce, DC flavor.