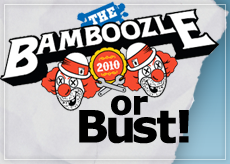 The weekend of May 1st and 2nd was the annual The Bamboozle festival held at the Meadowlands Sports Complex in East Rutherford, New Jersey. OurStage had the opportunity to attend and attain coverage on all the great performances of the weekend as well as interview some up-and-comers and industry heavyweights. Let's break down both days and give you the scoop on everything that happened behind the scenes!
Day 1
We arrived at the Meadowlands Sports Complex around noon only to see hundreds of concertgoers waiting in line to enter the festival. The view of the grounds from the parking lot was just a small teaser with carnival rides running alongside different sized stages, hundreds of food & beverage vendors and merchandise tents lining the outskirts of the festival. You could feel the energy of the surprisingly diverse and eccentric crowd within the gates just minutes after doors opened. Most years attendees of festivals such as Warped Tour or Bamboozle are of a younger demographic, and while this year was no exception, there were many different types (and ages) of people all there for one reason and one reason alone, the love of music and sharing it with family and friends.
Upon entering the media tent area, we were welcomed by pop-punkers and OurStagers Artist Vs. Poet for the first interview of the day. After meeting these extremely humble and happy bunch we had a feeling the rest of the weekend would follow this path; and it did. We had the opportunity to catch up the trio that make up VersaEmerge mid-way through the day. They had just finished their set and were still pumped from the great crowd response they received that afternoon. Alongside those two great interviews, we got a few words from We Came As Romans, Chiodos and Paper Tongues. Our blogger Internet Warrior also had the special privilege to speak with Chris Youngblood who is the creative director of To Write Love On Her Arms. If you haven't had the chance or don't know what TWLOHA is all about, then please visit their Web site and check out their mission statement and help spread the word.
Day 1 was mostly spent interviewing and meeting many young artists as well as a certain group that you may have heard of, Hanson. Alison had the opportunity to get a few words in with Isaac and Zac.
Being behind the poles all day, we also got tons of cool footage and photos for you readers, like this shot of Paramore shooting video shorts with silly string.
After the hectic day of interviewing, we were able to catch a few performances to end our night"solid headliners on the Skate and Surf Stage including Angels & Airwaves, Ke$ha and Paramore (to end the night). Right next door was the Sony Bloggie Stage that housed a reunion of Something Corporate and Canada's hip hop heartthrob Drake, who brought on guests Birdman and 14-year-old Chelsea, a fan in the audience, onstage.
Day 2
From the beginning of the day, the atmosphere was quite different than day 1. Going from a hectic and crazy filled Saturday with tons of high energy in the air to a laid back feeling on Sunday was a great follow up. The headliners that held the down the fort on the Skate and Surf  and the Sony Bloggie Stages consisted of Say Anything, Matt And Kim, MGMT, Mute Math, Girl Talk and Weezer, appealing to the diverse demographic that had been troopers in the heat all weekend.
Day 2 settled down a bit more for us at the OurStage camp, giving us the chance to catch some great live performances of Motion City Soundtrack, Ke$ha (who performed both days), The Morning Of, Mute Math, Matt And Kim, viral video pioneers OK GOo, and a special reunion show by Boston's Piebald, who we also got a chance to sit down and chat with. Along with a special interview with Piebald, we caught up OurStage artists Lovedrug and Death On Two Wheels along with The Morning Of, who will all be featured in the video we'll be sharing with you later!
The Bamboozle festival this year brought forth an extremely diverse and eclectic line-up ranging from indie rock and folk singers to heavy hitting hardcore and metal acts to club bumpin' DJs.  It was a sure hit and gave many different types of people something to enjoy and possibly turn new people onto genres they never gave the time of day before. Just like Blake of VersaEmerge said Bamboozle is like Warped Tour but crammed into two days making it crazy and just fun.
Be sure to check back for video footage featuring interviews from Artist Vs. Poet, VersaEmerge, We Came As Romans, Paper Tongues, Chiodos, Death On 2 Wheels, The Morning Of, Piebald, Chris Youngblood of To Write Love On Her Arms, and of course, Hanson.
Were you at The Bamboozle festival this past weekend, too? Tell us about it! We want to hear your experience and any fun stories you may have!