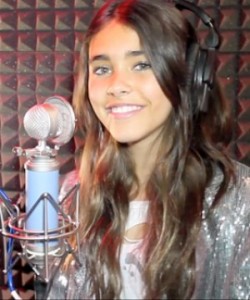 Madison Beer isn't a household name yet. But if the stars continue to align for her, then she'll be damn near inescapable in a few months' time. You see, Beer has been picked by none other than Justin Bieber as a star in the making.
On July 16, 2012, Madison Beer would read on paper as a fairly typical young teen. Frequently on Twitter with a mild Justin Bieber obsession, Beer most distinguished herself through her singing. Beer would post videos to her YouTube channel, covering Christina Perri and mashing up Bruno Mars. Having only been on the channel for a little under five months, Beer seemed to be making a modest, but by no means groundbreaking, impact with her tracks. Of course, it's impossible to gauge so early in any performer's career what heights they might reach. Talented musicians with great energy, defined profiles, and good skin are a dime a dozen in the music industry.
But that was then.
Cut to 12:15 pm on July 17th. Pop juggernaut Justin Bieber tweeted a link to one of Beer's videos, a cover of Etta James' "At Last." "Wow. 13 years old!" Bieber wrote. "She can sing. Great job. #futurestar." Since the tweet went out a little over two weeks ago, it has been retweeted over 25,000 times. Beer's follower count on Twitter has since skyrocketed from about 3,000 to over 40,000. Beer's account on YouTube has experienced some increased traction as well, currently boasting 11,000 subscribers. Chalk it up to The Bieber Bump.  (more…)

The British are coming"again!
It's been more than a hot minute since multi-platinum boy bands like *NSYNC and Backstreet Boys roamed the earth and ruled the charts. Now, after a decade-long dormancy, cute, heavily-styled guys who sing in harmony and don't play instruments are suddenly back in fashion.
Once again, the UK is leading the charge onward and upward. While Backstreet Boys and *NSYNC were born in the USA, they enjoyed their earliest success in the UK. This time, though, the new wave of blushing boy bands represents an authentic UK-born-and-bred British invasion.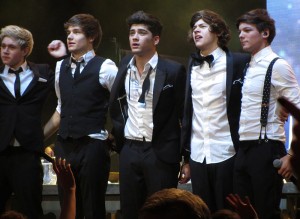 The members of The Wanted, whose "Glad You Came" single has climbed into the Top 3 of Billboard's Hot 100 (the quintet's self-titled US debut album arrives April 24), and One Direction, whose first album, Up All Night, just outpaced Adele to enter Billboard's Top 200 album chart at No. 1 (176,000 vs. 148,000 copies sold), all hail from Britain and Ireland.
In just a few months, both groups already have enjoyed more US success than Ireland's Westlife, or Take That, perhaps the UK's biggest boy band ever, who aside from one Top 10 single (1995's Back for Good), never made it big in the States. (With the exception of Spice Girls and Bananarama, UK female vocal groups"including All Saints in the ˜90s and, more recently, Sugababes and Girls Aloud"haven't fared much better in the US over the years.)