A lot has been made about EDM's rise to prominence in the U.S., especially by us. Assertions about the genre's popularity were previously observations of the cultural zeitgeist. Beiber going over a "dubstep" beat. Paris Hilton trying"and failing, in spectacular fashion"to DJ. The return of rave culture and all of the wonderful, sweaty gyrations that accompany the scene. In early June, however, there was another metric by which we could measure the success of many of EDM's finest: Cash money.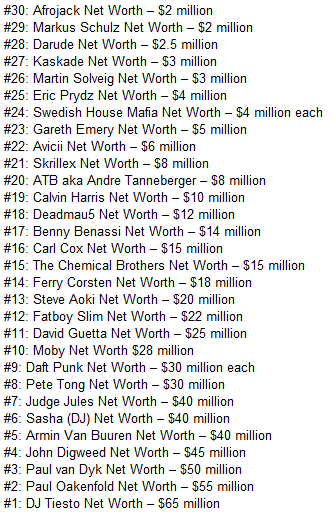 CelebrityNetWorth.com came out with a list of the Top 30 richest DJs in the world earlier in June (seen right). Now, there are a couple of surprises on this list. For example, despite having a hand in producing two of 2011's biggest hits in "Look At Me Now" and "Give Me Everything," Afrojack somehow finds himself at the bottom of this list with a purported net worth of $2 million. Also, the list is lopsided in terms of seniority. The top fifteen earners, from The Chemical Brothers down to Tií«sto at number 1, have mostly been in the game since the '90s, with the arguable exception of David Guetta. The rest, however, are almost all young upstarts like Avicii, Swedish House Mafia, and Skrillex.
This list isn't the full story either. No list of unfeeling numbers can capture the extent of the sweet life that many DJs live. Sure, always being on tour can be tough on one's personal relationships. But these guys (and the list is all male, as it happens) are playing music for a living! The women, drugs, relative fame, and parties aren't bad either.
But with this new information comes new comparisons. Fresh comparisons. Dope comparisons. Swag comparisons. You know where we're going with this.
Forbes releases a number of music-earning lists annually and none carry the same weight as their installments covering the richest and top earning in Hip-Hop. There are two lists reflecting the amount of paper that the biggest in the rap game can throw around; Cash Kings: Hip-Hop's Top Earners and The Forbes Five: Hip-Hop's Wealthiest Artists.
You might be wondering what Jimmy Fallon is up to on a Friday night or what P Diddy thinks about when he wakes up in the morning, but you may not know that you can find the answer with just one click of the mouse.  The next big social networking tool online is Twitter, and many people, including celebrities, are taking notice. If you're not familiar with twitter, read more about how it works.
A lot of celebrities and musicians are using this utility to reach fans and demographics in a way that they have not been able to in the past. Check in with a few big names that are using twitter: Demi Moore, Ashton Kutcher, and Jimmy Fallon, and watch this video of Sean "P Diddy" Combs discussing Twitter on The Ellen DeGeneres Show.
Needless to say, everyone is using Twitter. We even use it to help keep OurStage users and followers updated. Take a look at our Twitter page and the list of people we follow. Many of them are OurStage artists, so join Twitter and follow them yourself!