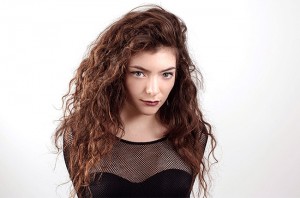 So, what happened is, Lorde gave an interview where she criticized Selena Gomez' song "Come & Get It" as being bad for women. A cursory listen or glance at the lyrics bear out her point. See, the chorus of the song isn't just "come and get it," it's "When you're ready come and get it."
 You ain't gotta worry, it's an open invitation
I'll be sittin' right here, real patient
All day, all night, I'll be waitin' standby
Can't stop because I love it, hate the way I love you
All day, all night, maybe I'm addicted for life, no lie.
This is the basic message of the song, which is otherwise a vapid series of platitudes about love and how hard it is, over an obvious hook that desperately looks to Rihanna's "Umbrella" and its many spawn ("When you're re-eh-eh-eh-eh-eh-eh-ady come and get it") for the secret to chart success. There's also so weird, vaguely middle eastern tabla/sitar breaks happening. It's all very unfortunate.
But I digress. Lorde pointed out that this kind of message (you call the shots, come and get it from me whenever you're ready) is bad for women. Gomez responded to Lorde's critique by saying that it's anti-feminist to not show unwavering support for other women, regardless of what they're doing.
Now Lorde has responded:
I think there's a funny culture in music that's only happened over the last 15 years, that if you have an opinion about something in music that isn't 100-percent good, you're a ˜hater,' even if you have perfectly reasonable grounds for that critique. People will say exactly what they think about a movie or a TV show, and that's fine, but as soon as you say it about a record, you're like some little zombie in a funny dungeon."
Not sure what that last part was about, but she really calls out this cultural trend of instantly discrediting someone by labeling them a hater, as though the only reason they are being critical is for the sake of hate itself. I suppose there are some sad people who do that, but how about stepping up and defending yourself with logic and reason rather than trying to dismiss what is a valid argument?
Culture will only continue to devolve if we can't debate it on its merits.
More like this:
Lorde Releases Team Music Video
Lorde's Royals Plus Sad Clown Equals Quality
Why Royals Isn't The Song You Think It Is or: Lorde Is Lying to You