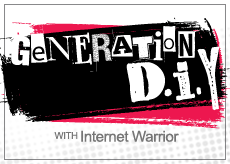 Lights! Camera! Action! Remember when we were younger and believed that those words were the biggest part of filming a movie, commercial, or TV series? Now that we're older, we know there are many more factors involved in the production of such projects, especially when it comes to soundtracks. This week's Generation DIY is all about music supervision and ways you can get your music into new films, commercials and TV episodes that are currently in production.
First things first, when it comes to getting your music placed it is important to have it mastered professionally. This is the big leagues we're talking about. Music placement not only means a relatively generous payout but also equals worldwide promotion, so don't give these music supervisors basement recordings. A minimal searchs for music supervisors yields many useful sites. One that I've referred to before is Music Supervisor Guide, which has listings for many hot TV shows as well as video games, movies and advertising (Note: you have to sign up and pay in order to use). If you do plan on paying for a Web site, then I'd suggest joining BMI, SESAC or ASCAP and license your music through these organizations.  Since they have good reputations behind them, you will be able to land some better opportunities, but again, this is the big league so make sure you are ready.

If you are looking to do it all on your own, as all of us DIYers do, then pick up some books on the subject and interview some music supervisors to get a better idea of what you need to do to make that connection. One contact I made through my travels was David Weiss and David Hnatiuk who wrote and published the book Music Supervision: The Complete Guide To Selecting Music For Movies, TV, Games & New Media. This is a great book to pick up to get a better understanding on how this industry works and what music supervisors are looking for. Be sure to check out their Web site to learn more about this great group.
Hopefully some of this information gets the wheels turning and pushes you in the right direction. As always, I want to hear your suggestions, comments, success stories and anything else that you would like to share.
This is YOUR year. Let's make it count.