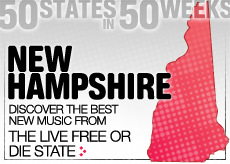 Fun Facts: State Flower: Purple Lilac, State Insect: Ladybug, State Song: Old New Hampshire and New Hampshire, My New Hampshire.
Home of: Ray Lamontagne, Mandy Moore, Steven Tyler,  Brian Viglione, Adam Sandler, John Irving, Sarah Silverman
The Venues:
Designed to appeal to both fans of classical music and popular music is the Great Waters Music Festival located in New Hampshire's lakes region. They have stuck to that mission to this day, hosting performers such as Wynton Marsalis, Dave Brubeck, Arlo Guthrie, Glen Miller Orchestra and many more. Over the past 14 years, attendance has grown from 325 visitors for 1 classical performance to over 7,000 guests (more…)
We've all been there: work getting you down, crappy weather lately, etc. Don't worry, we have just the thing for you: a list of the most awesome and angry metal songs on OurStage; a list of ten songs that are sure to make your blood boil (in a good way). Go ahead, play these songs loud, too loud in-fact, and rage like you have never raged before. It will be a good healthy dose of metal for your day. If it leaves you wanting more, head to the OurStage metal channel and get your headbang on. Horns to the heavens, people!