With summer right around the corner, we can't help but be totally stoked for Warped Tour. In case you haven't heard, we'll be sponsoring our own stage for twenty-two dates and bringing twenty-three artists out to perform on it. Twenty-two acts will snag a performance at their local tour stop, and one lucky artist will get to perform on every date (tour bus included). In addition, there are a handful of other OurStage artists already booked to play various dates of the tour. We decided to catch up with them to get the scoop on their summer plans.
First up is Minneapolis, Minnesota's Sick of Sarah. With indie rock chops that are both punky and polished, this band of female musicians are not to be overlooked. We chatted with lead vocalist Abisha Uhl and drummer/vocalist Jessica Forsythe about what it's like to be in an all-female band, their local scene and why they can't wait for Warped.
OS: Tell us about how the band formed and how you decided on a name.
AU: The band started off as four guitar players…and then realized that's not going to work! We started in 2005. The name Sick of Sarah comes from my old roommate; her name was Sarah. One night, she was kind of drunk and she was like, "I hate my name. I'm sick of Sarah." And I was like, hey, I like that. It was kind of random, but SOS has a nice ring to it.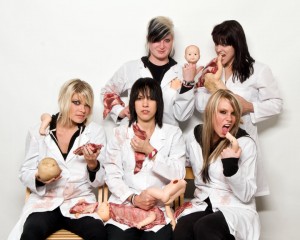 OS: For those who haven't heard your music yet, how would you describe your sound? Who are your biggest influences?
AU: Our sound is kind of rock/pop/indie style.
JF: Yeah, I'd say rock music.
AU: Yeah. We get inspired by a lot of musicians. In the earlier years, Jessica and I both really were into Blink 182, Weezer, Radiohead, Depeche Mode. And now, we love Metric, The Yeah Yeah Yeahs, Alkaline Trio.
JF: Right now, I'm listening to a lot of Death Cab…I really like a lot of the indie rock that's going on. A lot of the '90s alternative rock was what I was listening to growing up. I also love hip hop, I love Jay-Z, Eminem… [laughs]
AU: We love a lot of different music.
OS: Were any of you in bands before this? Were they all-girl bands too?
JF: Three of us have been in other bands. Jessie was in a couple other bands…
AU: She toured with Babes in Toyland in their last European tour, I think it was 2000 or 2001, and that was an all-girl band. When the band started, I had never been in a band before, I had only played solo stuff.
JF: Jamie and I were both stolen from other bands. I was in a band with two guys and a girl, and I know Jamie was in a band with her brother and a couple of other guys. I think she was the only female in her band.
OS: Do you think people underestimate you, being an all-girl band?
Both: Oh yeah.
JF: Usually when we first hit the stage, everyone's wondering what these girls are going to sound like. Usually, once we're done with our set, we get a lot of high fives from dudes who are like, "You guys are actually pretty good!" [laughs] I think we get that stigma a lot.
OS: It seems like there's a lot more female musicians emerging in this scene, though, especially on Warped Tour.
JF: I think I heard there were five female-fronted bands on the tour this year? So that will be really cool.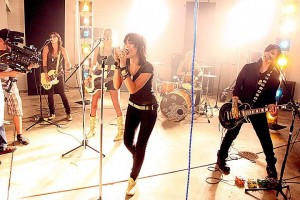 OS: You guys are based in Minneapolis…what is the local scene there like? Do you feel as though you guys fit in well?
AU: The scene here is really good. The music scene is amazing. We definitely are welcomed in our hometown as far as our music goes, they're very accepting. It's such an honor to come from a music scene like this and make it.
JF: We're really trying to play a lot more in Minneapolis but we've been touring for two or three years all around the country. We started touring in Europe and stuff, so we really miss Minneapolis. We recently played three Minneapolis shows and they've been really awesome. We've been really feeling the love and support from Minneapolis to try to hook up with other Minneapolis-based bands.
OS: You're playing a bunch of dates of Warped Tour this year….how did you get that opportunity?
AU: There's a girl Sarah who works at Warped Tour, and she's really into our music. She works side-by-side with [Warped Tour founder] Kevin Lyman. She helped us out a lot, getting us on there. When we were on Warped Tour last year, we sat down with Kevin Lyman and we were like, "Hey, we'd love to be a part of this in the future."
OS: What was your experience like last year?
AU: It was an amazing experience. It was so much fun and such a privilege to be surrounded by all these artists.
OS: Speaking of being surrounded by awesome artists, who are you most looking forward to seeing perform at Warped Tour this year?
JF: I'm excited to see Dead Sara and New Found Glory…
AU: The Used!
JF: Yeah, The Used!
OS: Anything else you'd like to say to your fans on OurStage?
AU: We'd just like to say thank you for all the support and we hope to come out to Warped Tour every year and put on a show for all of our fans. We appreciate them and we love them.

Here at OurStage, we're counting down the seconds until SXSW. Not only do we have the OurStage Panel Finale Extravaganza to look forward to, but we'll be seeing awesome live performances from some of the best musicians in the world!
If you're going to be at SXSW too, we hope you'll take the time to catch showcases from OurStage artists like Andrew Belle, The Niceguys, Stepdad and Jukebox The Ghost. Check out our OurStage artist showcase schedule with venue, date and time information and listen to all fifteen artists in the player below. Don't miss out, it's gonna be wild!
In the continuum of all-female bands, Sick of Sarah falls somewhere between Sleater-Kinney and The Go-Gos. Their music isn't the raw, shuddering post-punk of the former, nor is it the lip-glossed pop of the latter. It's little bit of both. With their lo-fi edge and mainstream melodics, the Minneapolis band's music is as prickly as it is catchy. Bittersweet is a shuffling, plaintive pop catharsis. It's rough around the edges, but that's part of the charm. With its jagged guitars, rioting drums, and breakneck pace, Not Listening," is a rebellious, in-your-face tongue lashing. But our favorite fit comes by way of Breakdown, a strident, percussive folk tempest that sounds like the product of an Ani DiFranco and Tommy Tutone collaboration. Once all the unbridled aggression has run its course, vulnerability sneaks in with acoustic ballads like Paint Like That and Common Mistake. Enjoy the calm while you can. With Sick of Sarah, another ass kicking is always around the corner.