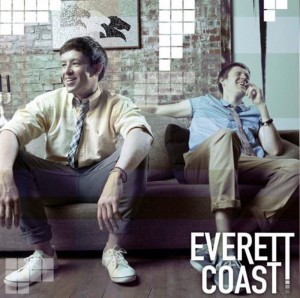 If you love sludge metal bands that drag their guitars and drums through dense bogs of distortion and jolting tempo changes, screaming doom and gloom the whole way, then you'll want to steer clear of Everett Coast. Hailing from the sunny City of Angels, the duo's breezy folk rock is antithetical to anything that's hard edge, hardcore, or hard knock. Like Simon and Garfunkel and the Everly Brothers, Everett Coast is all about harmonics. Layered and staggered vocal harmonies permeate their songs. On Just Let Go shimmering keys and glistening guitars create dreamy, ethereal rock. While metal bands like Lamb of God bellow lyrics like, Destroy yourself / see who gives a f"k, Everett Coast stays positive, singing, I know we'll meet again someday / Where we can be the best of friends." Our point is this: Life's hard. Sometimes misery's company is a catharsis, and sometimes it's better to stay in the light. Next time you need to feel good about things, you know where to go.

Sometimes, the best kind of live shows are the ones that catch you by surprise; the ones that are full of unexpected moments and the ones that leave you smiling. Here at Live Wired, we got to experience both this past weekend, a full day of music courtesy of Matt Nathanson. The Massachusetts-born singer, who released his album Modern Love back in June (check out his interview with OurStage after the album was released) put on two wonderfully different performances on Saturday. Seeing Matt in concert is more than just a live show; it's an entire experience full of his incredible stage presence and his constant conversation with the audience.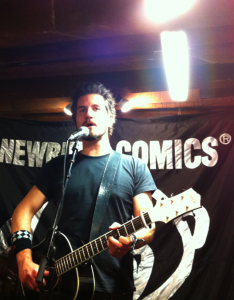 In the early afternoon, Matt and his right-hand man Aaron Tap, took the stage at a jam-packed record store, with people squeezed in between rows and rows of albums. The set was acoustic and mostly comprised of newer material, which allowed us to hear beautiful versions of songs like "Bottom Of The Sea" (Matt joked was the sequel to "Under The Sea" from  the movie The Little Mermaid). The song translated perfectly into an acoustic performance, with Matt and Aaron providing wonderful harmonies. Acoustic shows are always more intimate, and Matt took full advantage of that atmosphere, spending a good chunk of time between songs talking with the crowd. While sometimes this approach doesn't work well for artists, he had everyone laughing hysterically the whole time. Noticing a few younger kids to the side of the stage, he had some fun while explaining the meaning behind some of his songs, attempting to make them more "PG". To the delight of the crowd, he played one of his older and more popular songs, "Come On Get Higher". Everyone sang along; and there's something about a giant crowd in a small room singing in unison with a couple of acoustic guitars that is so wonderful. It brings everyone together. It's what live music is really about.